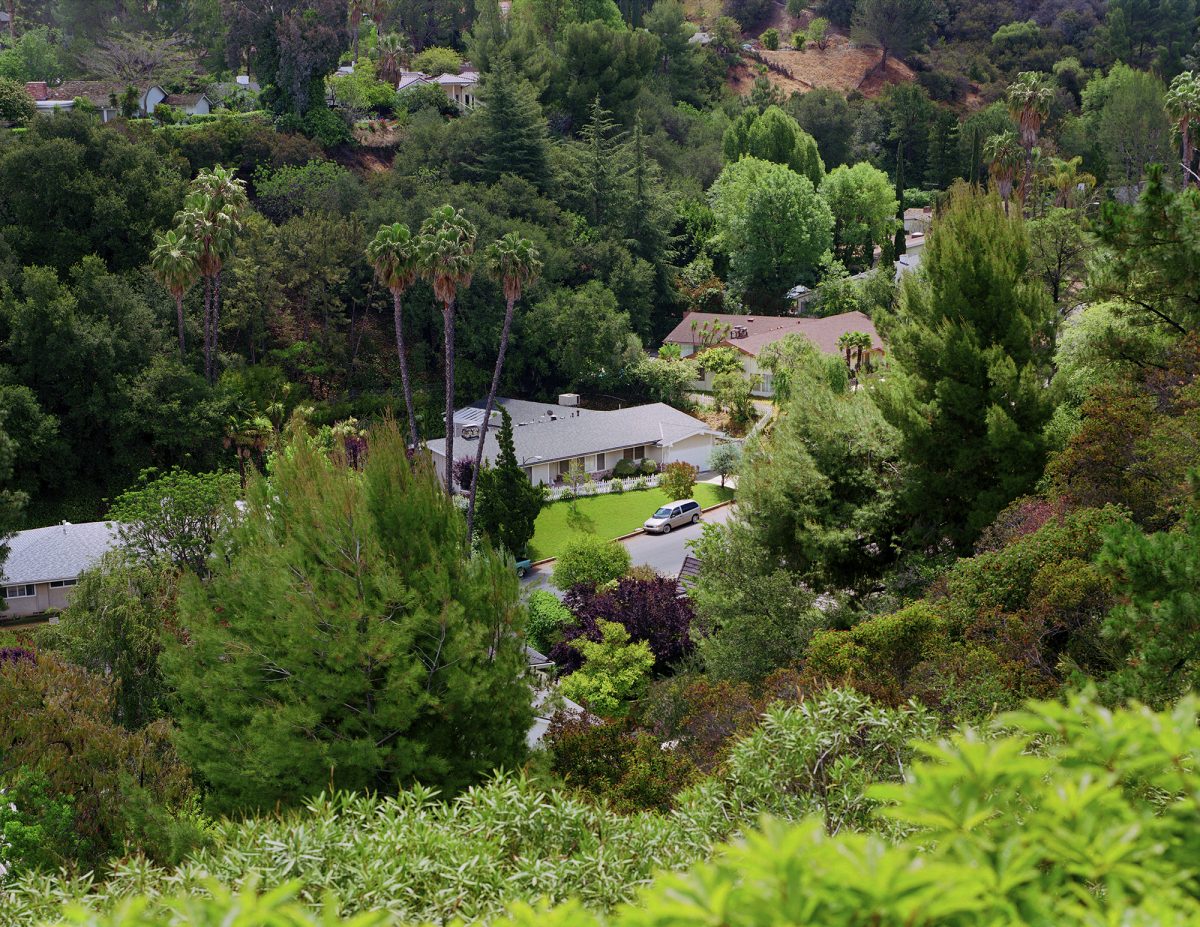 Encino / 2002
Model Home, Sepulveda Boulevard / 2002
Suburban Street In Studio / 2000
Mulholland Drive #3 / 2001
Den, Santa Clarita / 2002
Mulholland Highway / 2000
Off Sepulveda / 2001
Havenhurst Drive / 1999
Malibu Canyon, Rd. / 2002
Topanga Skyline Drive / 2000
Hamner Drive / 2002
Tasha's Third Film / 1998
Yellow Hill Road / 2000
Patio, Delita Drive / 2000
Backyard, Reseda / 2001
Haskell Avenue / 1998
Backyard, Vogel Studio / 2003
Pool, Calabasas / 2002
Cabana (Canopy) / 2000
Backyard, Woodland Hills /
Patio, Bosque Drive / 2003
Boxers, Mission Hills / 1999
Sheet, Laurel Terrace / 1999
Woman in Garden, Mission Hills / 1999
Mulholland Drive #2 / 2000
The Kiss / 1999
Four-Poster Bed, Woodland Hills / 2000
Father / 2002
Kitchen Floor, Reseda / 2000
Silhouette, Calabasas / 2000
Surfboard in Bedroom / 1999
Child's Bedroom / 2001
West Valley Studio #3 / 1998
West Valley Studio #12 / 2002
Vogel Studio / 2003
West Valley Studio #11 / 2001
Golden Stairway, Tarzana / 1999
West Valley Studio #13 / 2003
Holly, Bosque Drive / 2002
Woman in Curlers / 2002
Laurel Terrace / 2000
Chandler Boulevard / 2000
Swinger / 2000
Kitchen, Santa Clarita / 2001
Kanin Road / 2003
Lassen Avenue / 2003
Three on the Bed, Bosque Avenue / 2003
West Valley Studio #1 / 1998
Delita Drive / 2002
Couple, Mulholland Drive / 2002
Topanga Skyline Drive #1 / 1999
Reseda / 2000
The Stage / 2002
Bosque Drive / 1998
Little Cinderella / 1999
Sliding Glass Door, Sunland / 2001
Backyard, Film Set / 2002
Backyard, West Valley Studio / 2003
Backyard, Laurel Canyon / 2003
Backyard Roscomare / 2003
West Valley Studio #2 / 1998
Sharon Wild / 2001
Porter Ranch Road / 2003
Satsuma Studio / 2003
Skyblue Studio #1 / 2003
Skyblue Studio #2 / 2003
Man in Garden / 2000
Dog At Night / 1999
Silver Curtain, Sands Hotel / 1997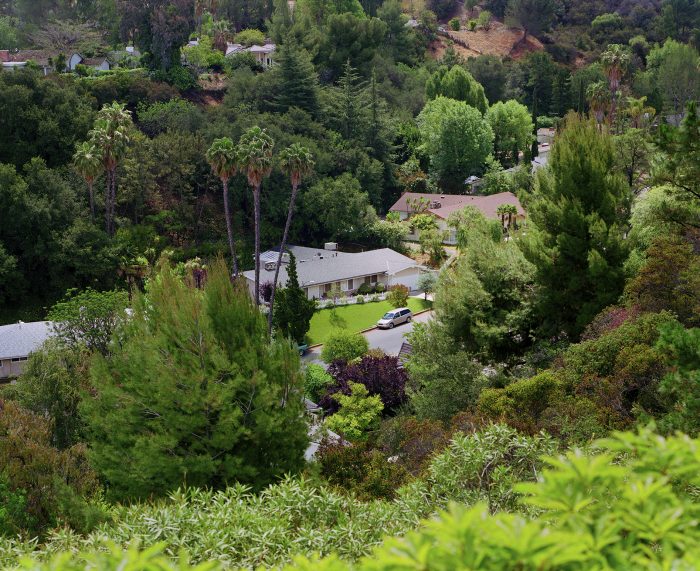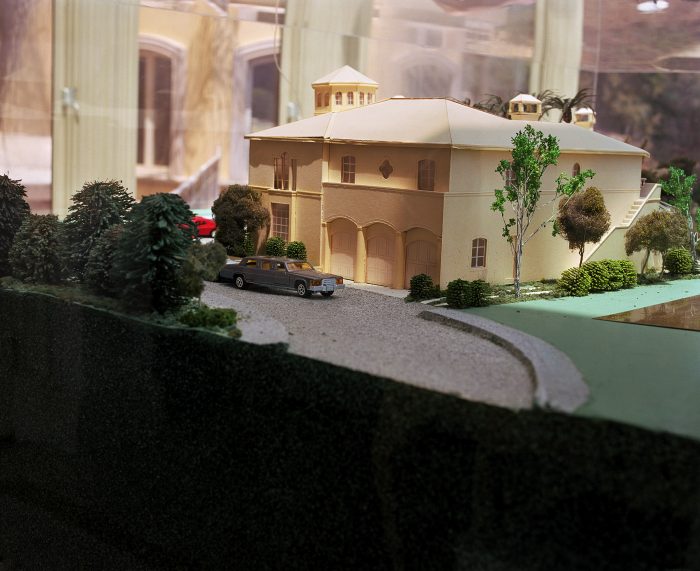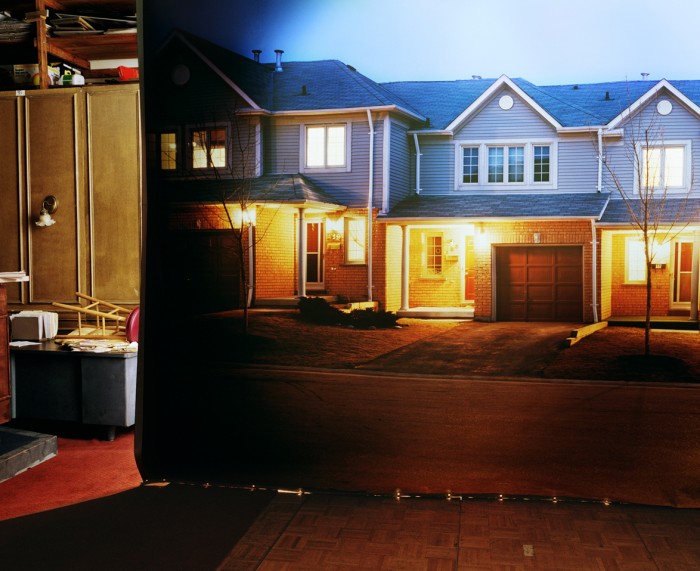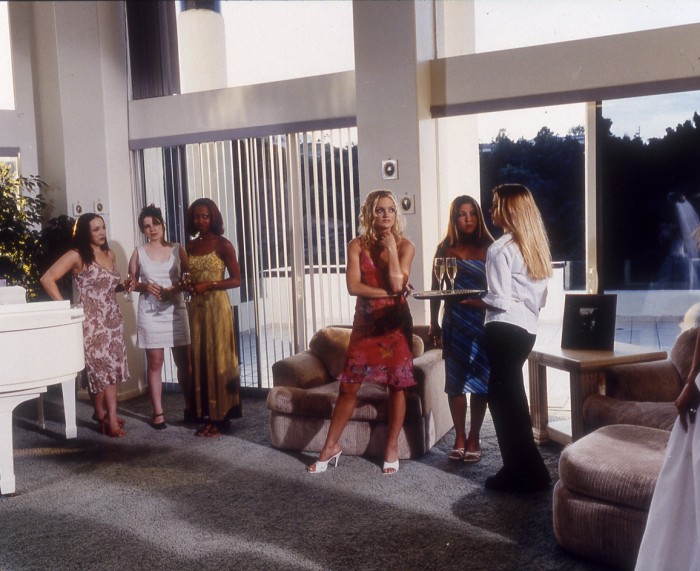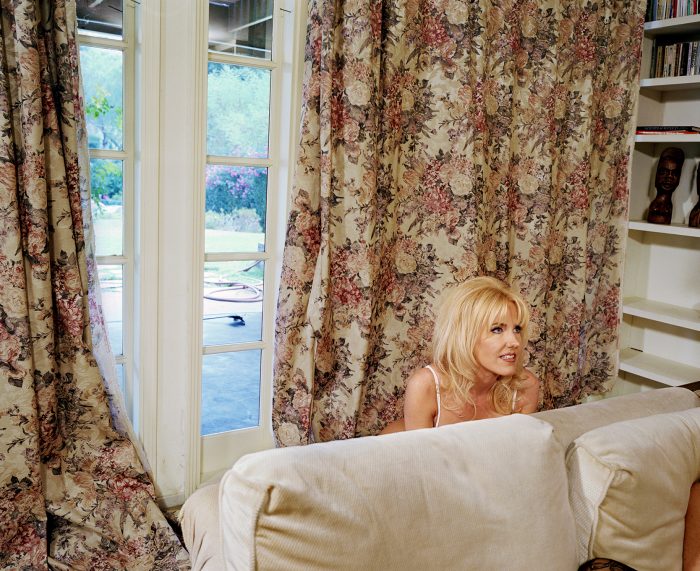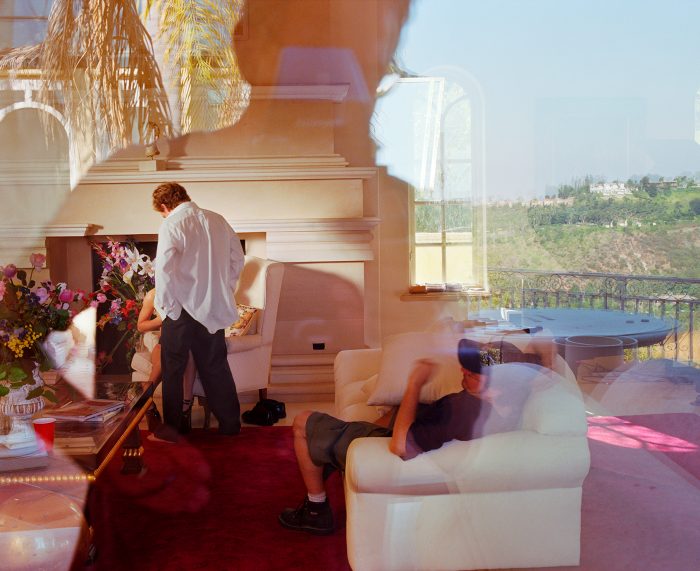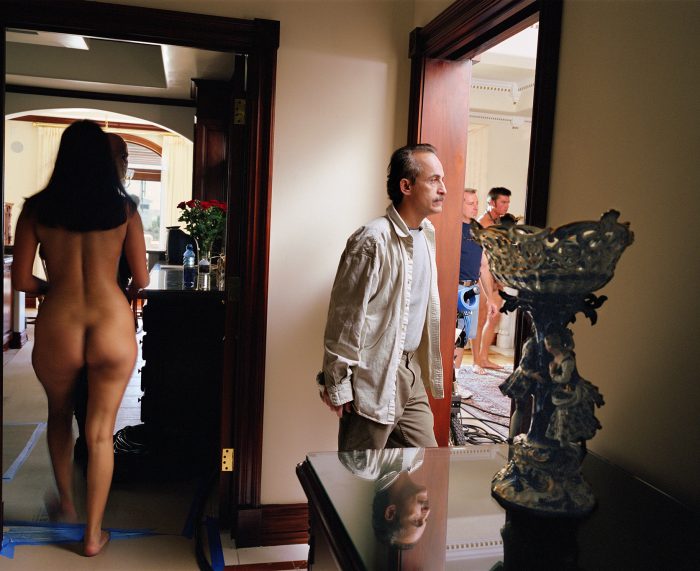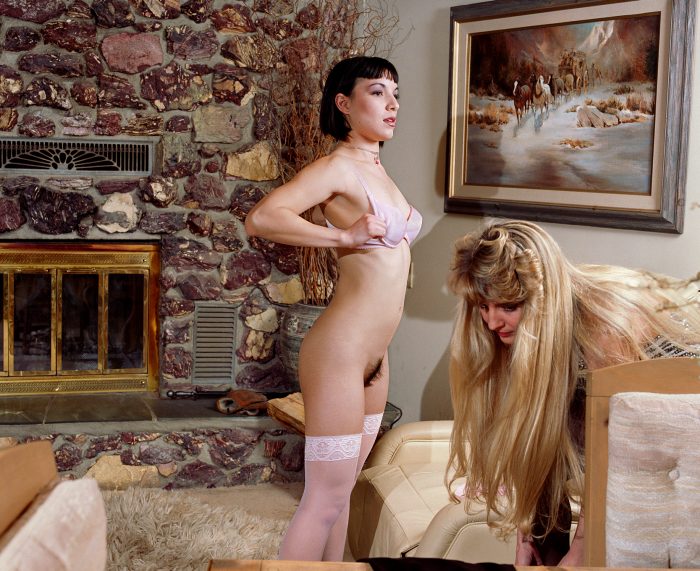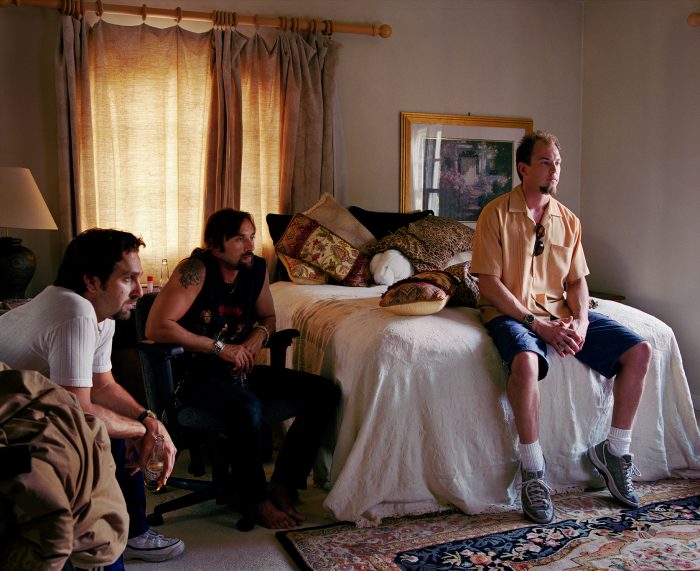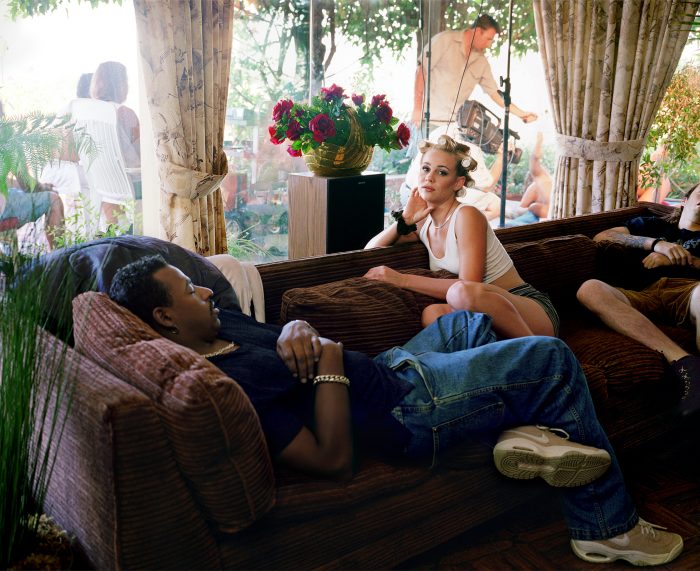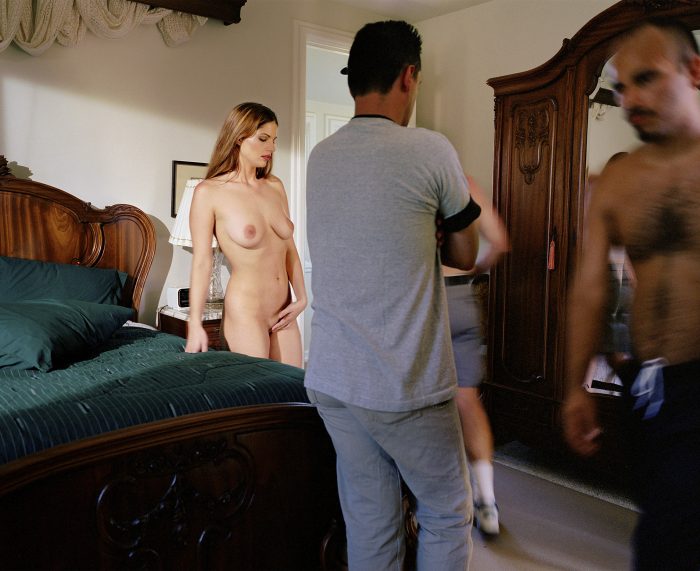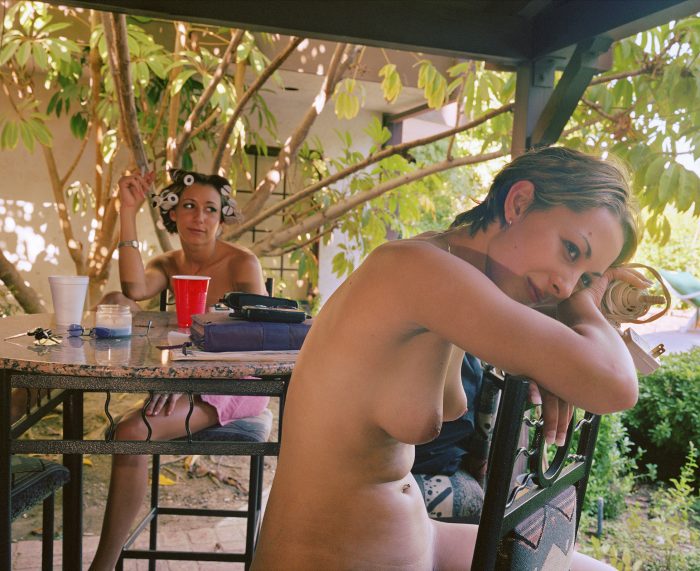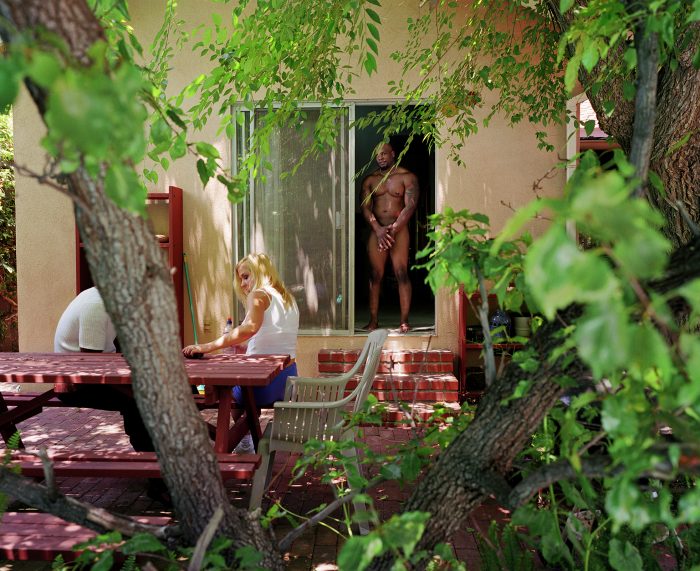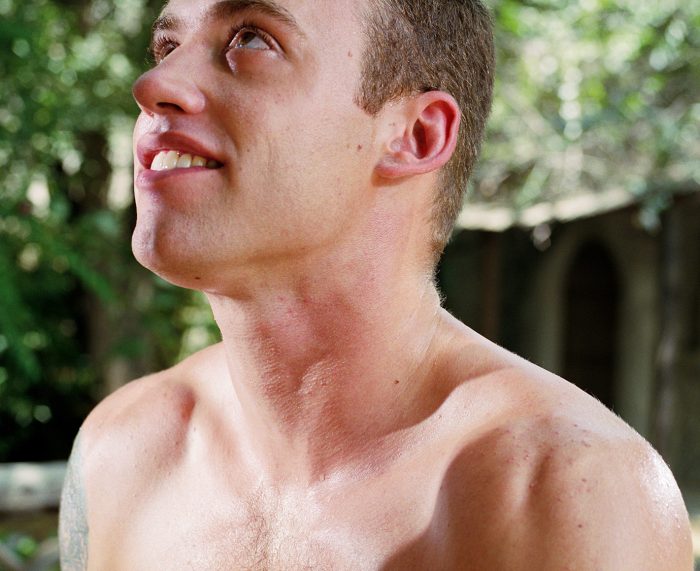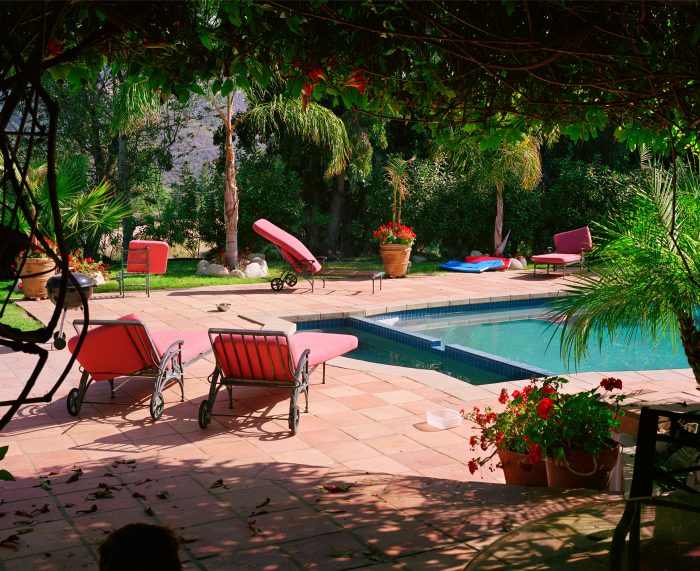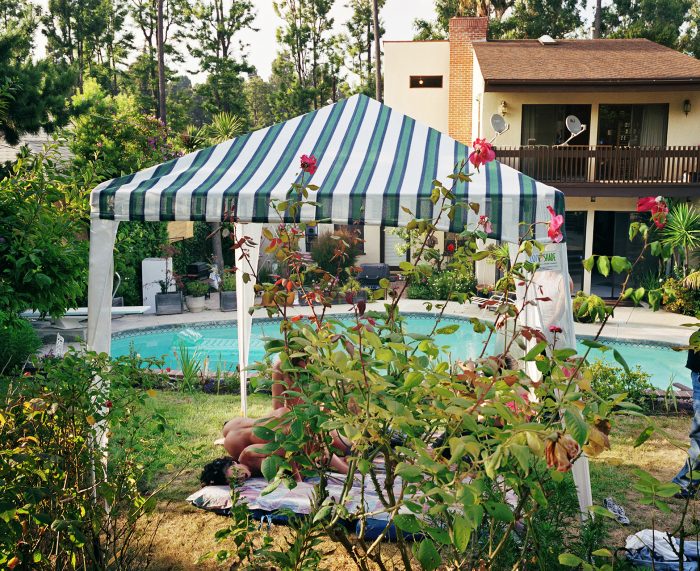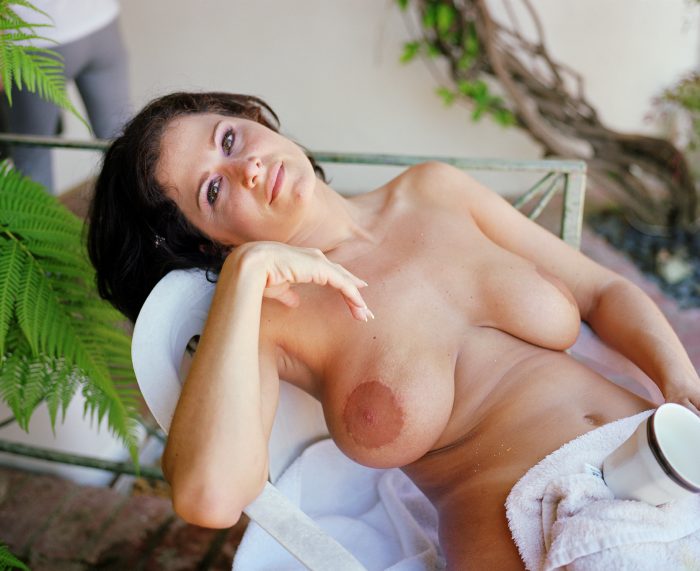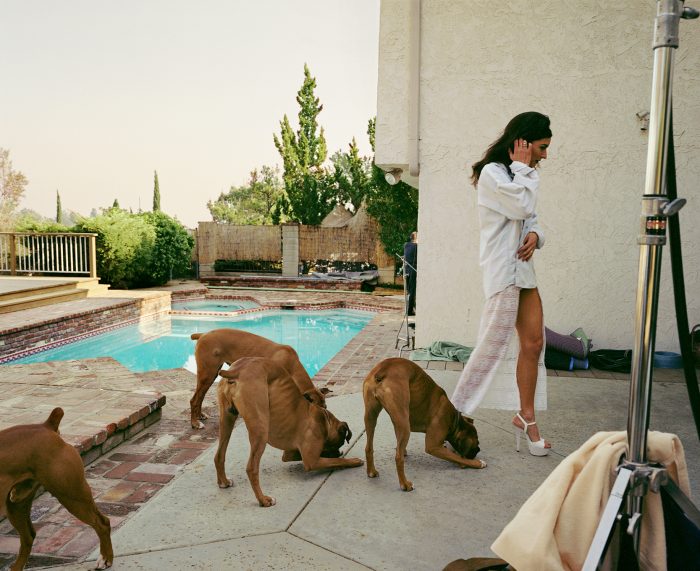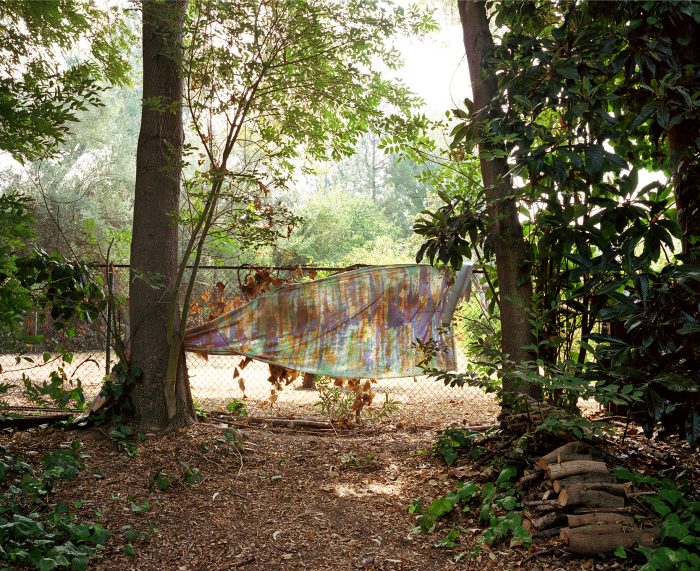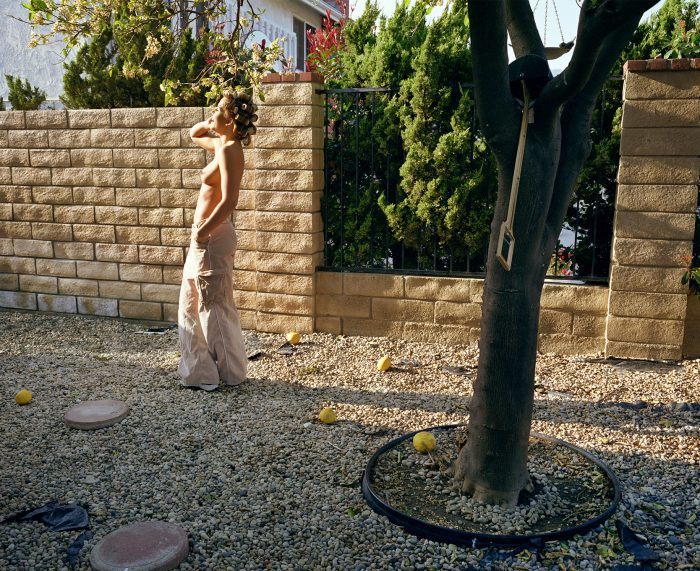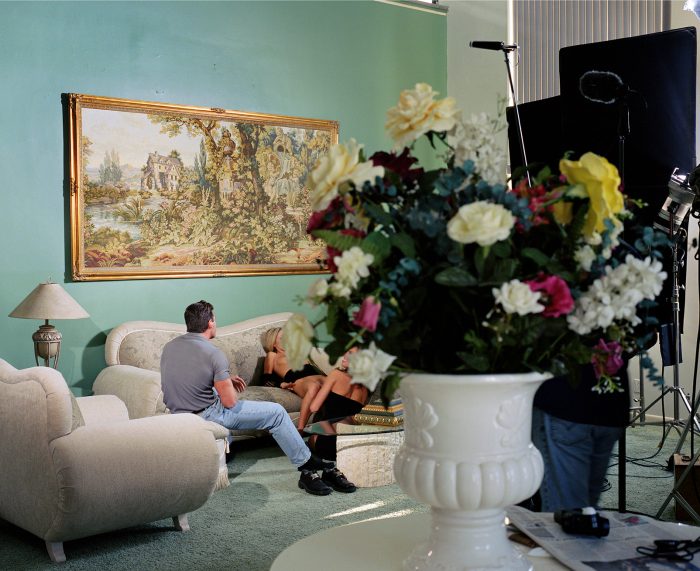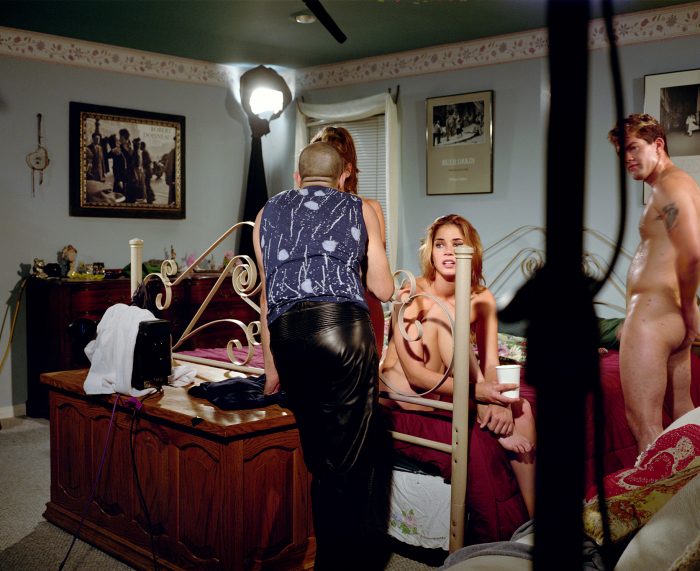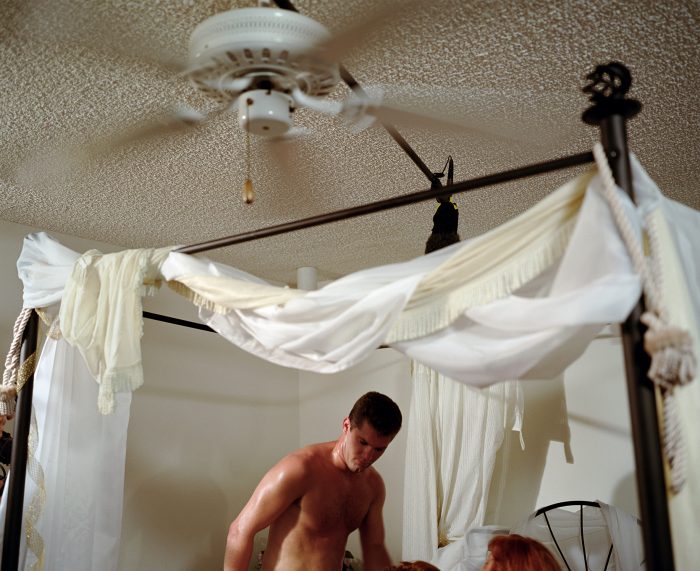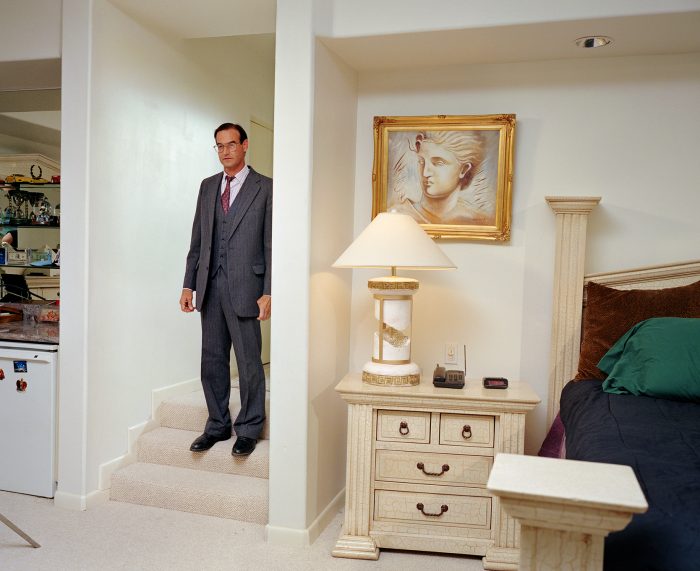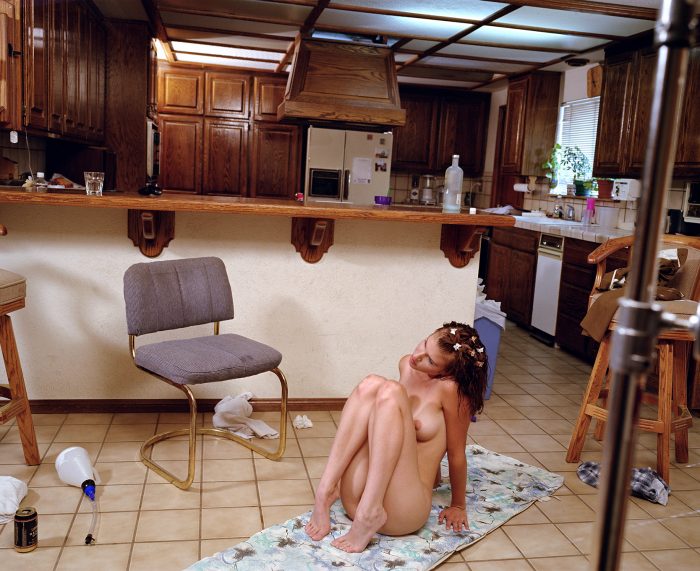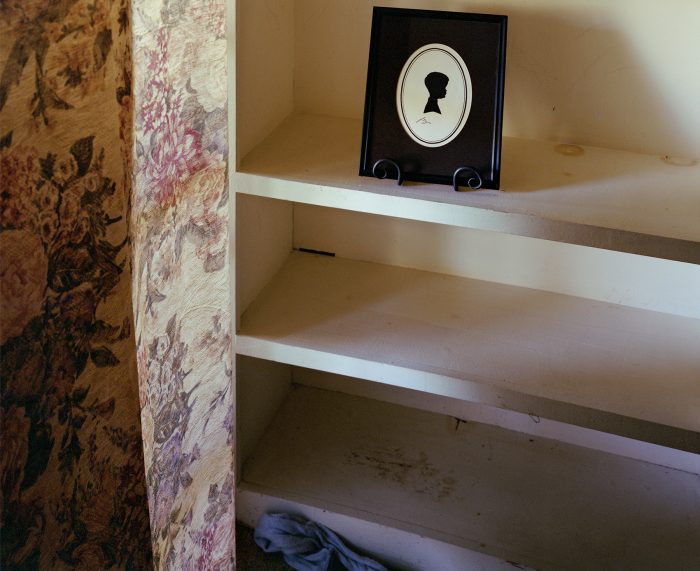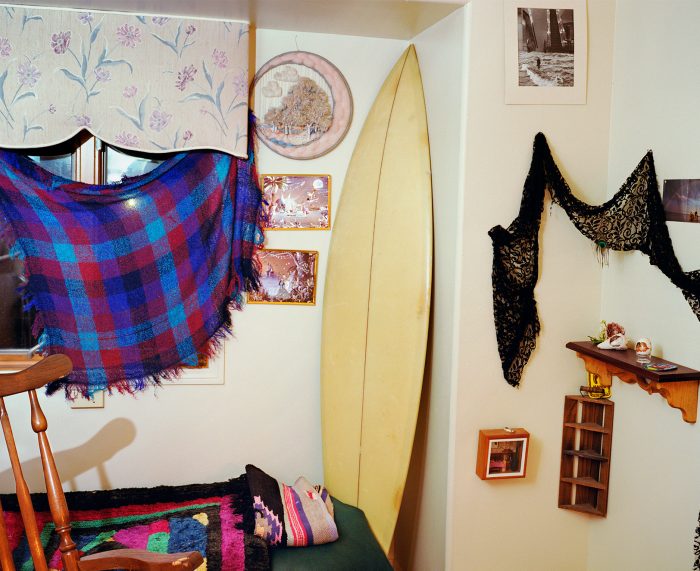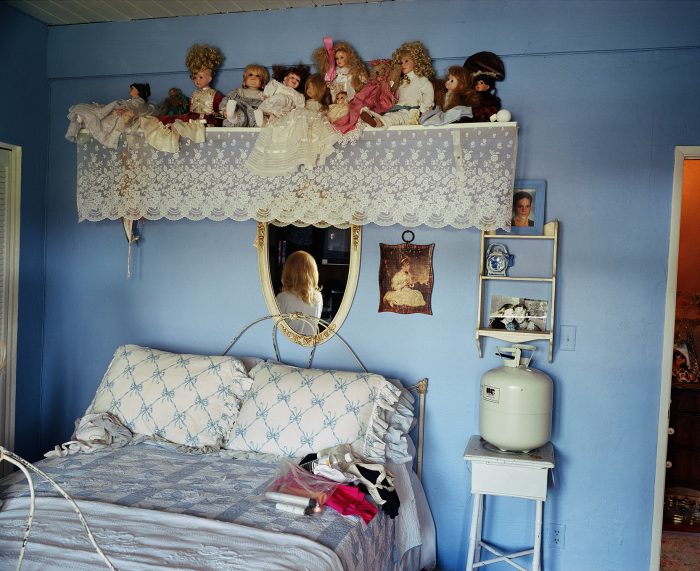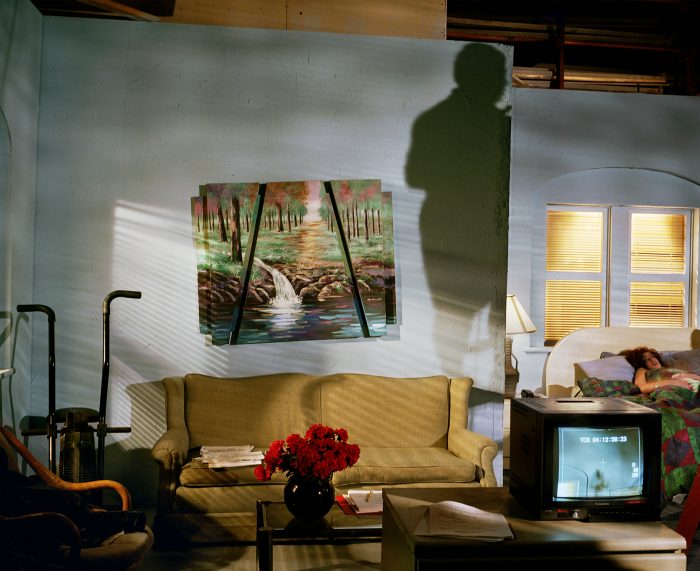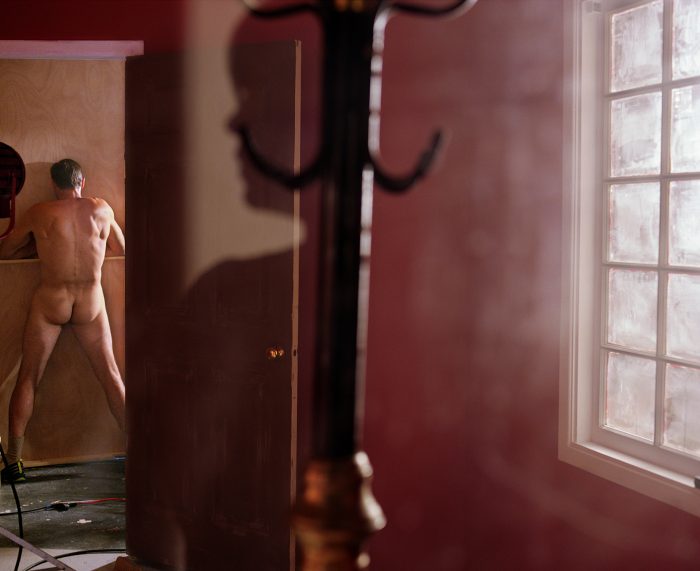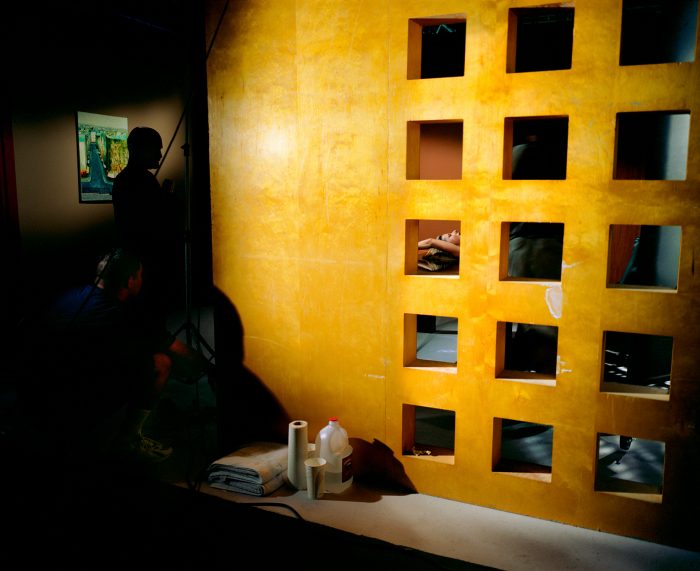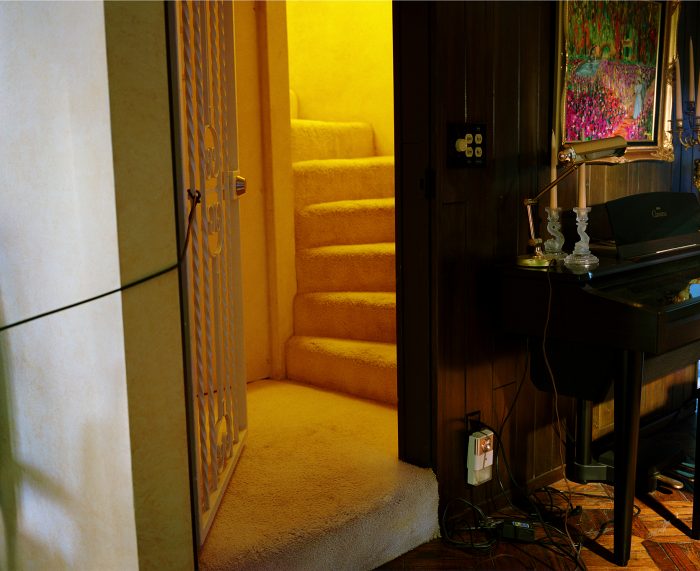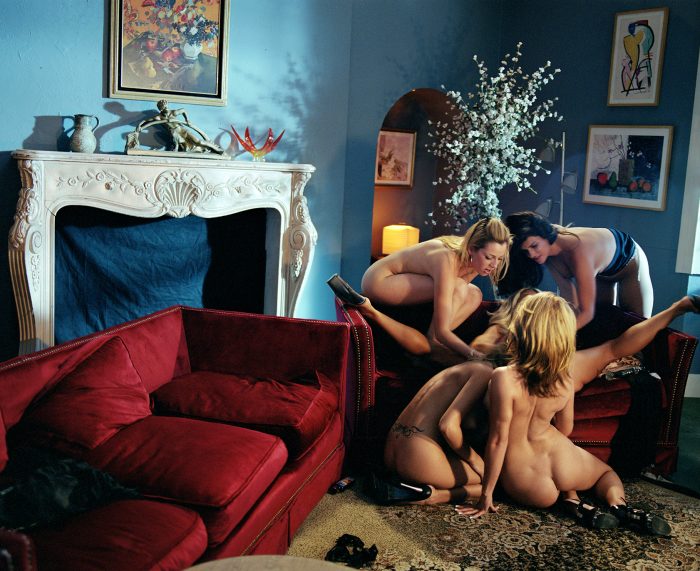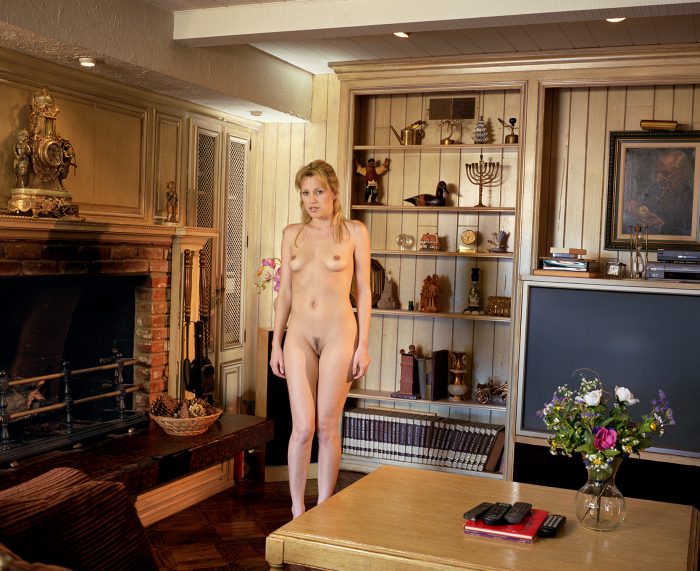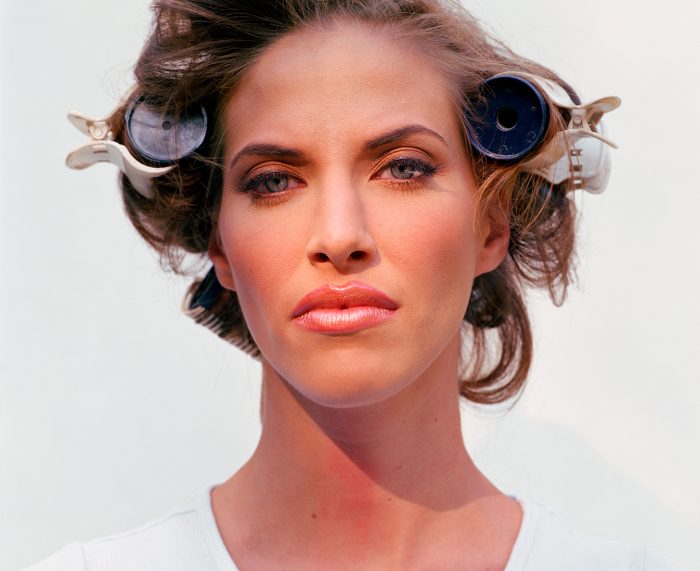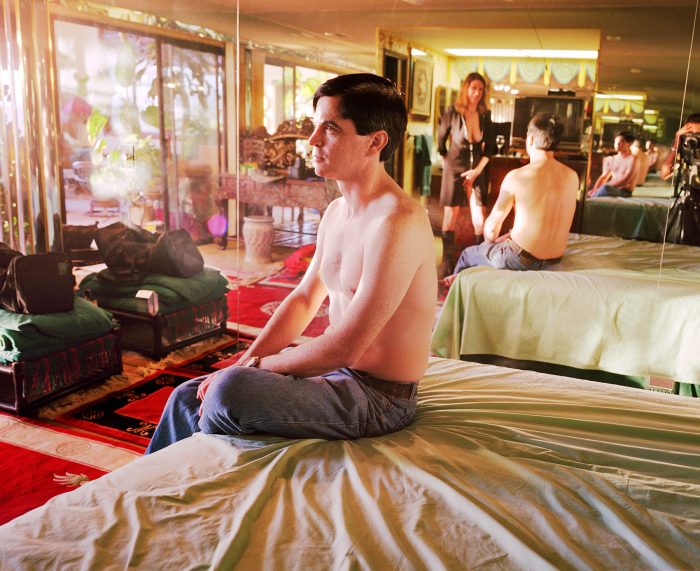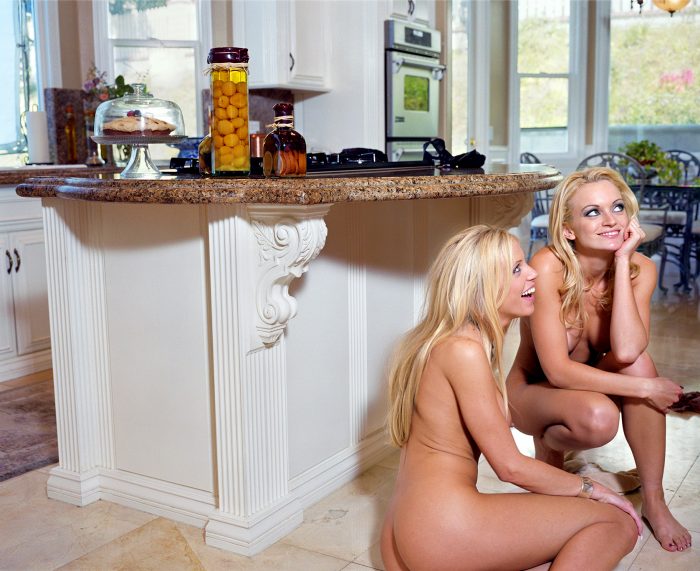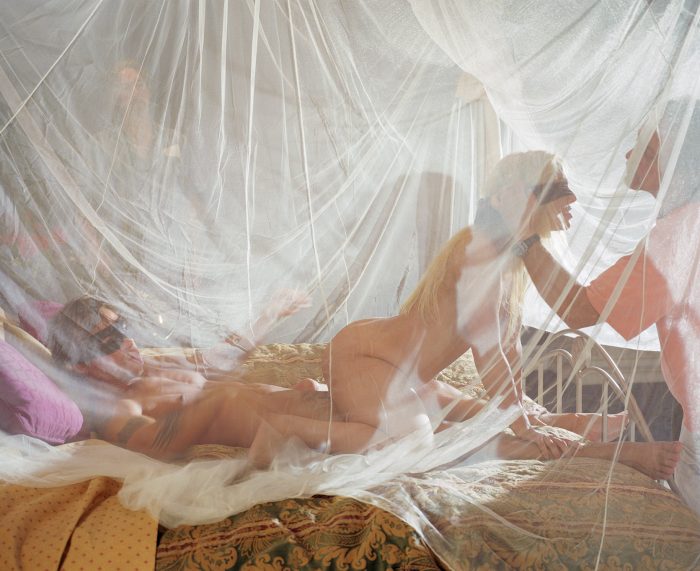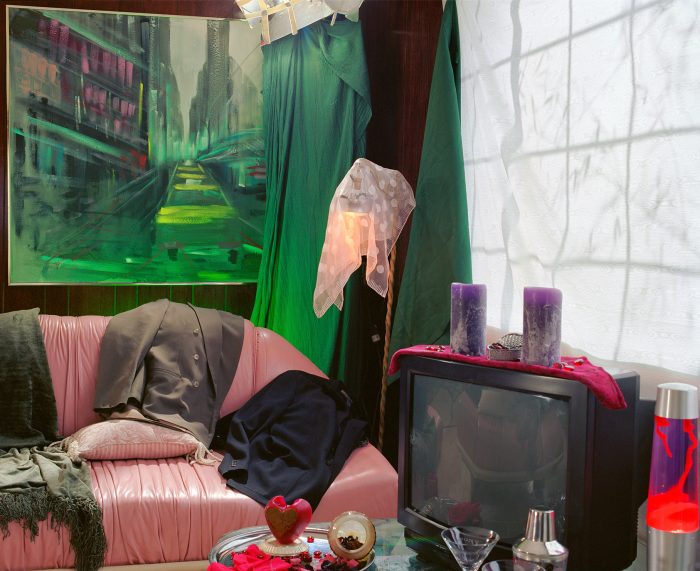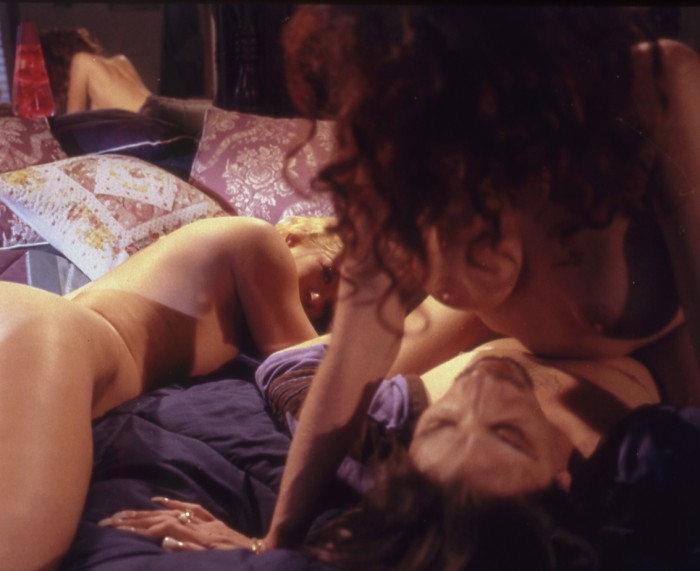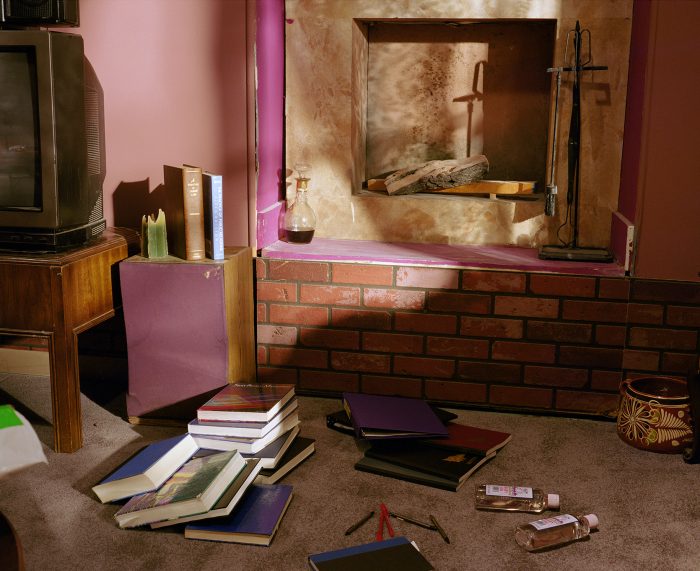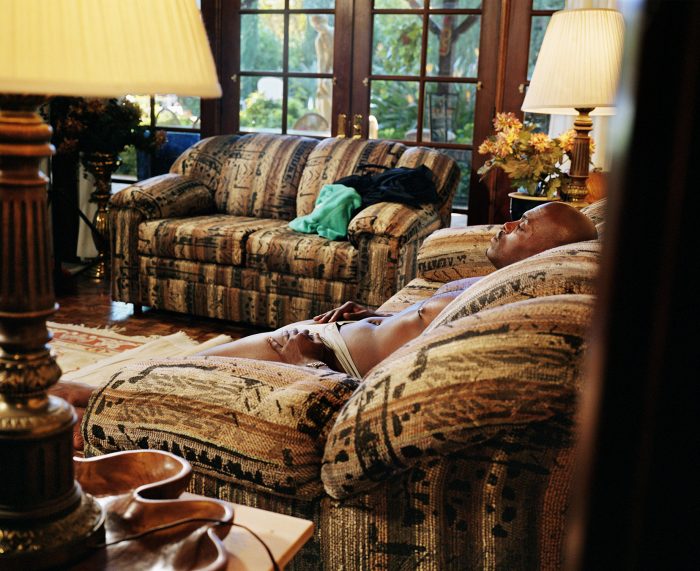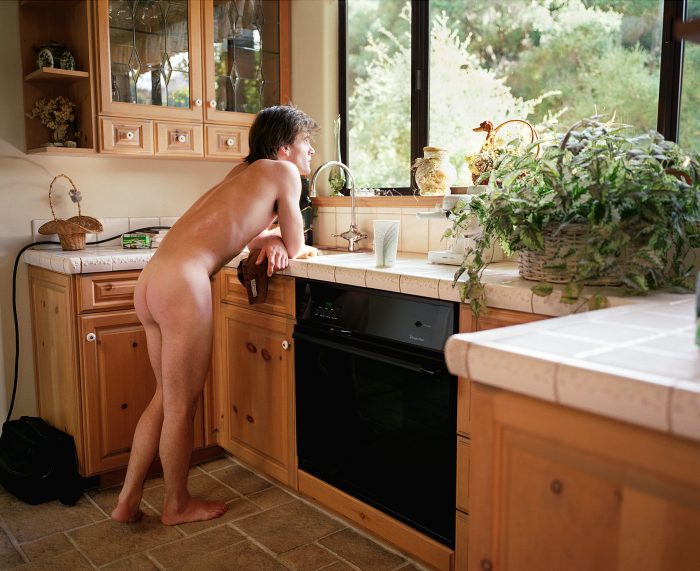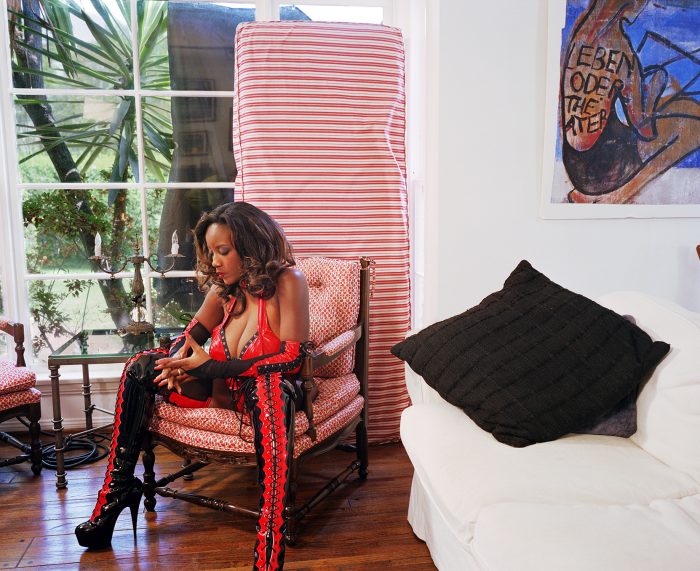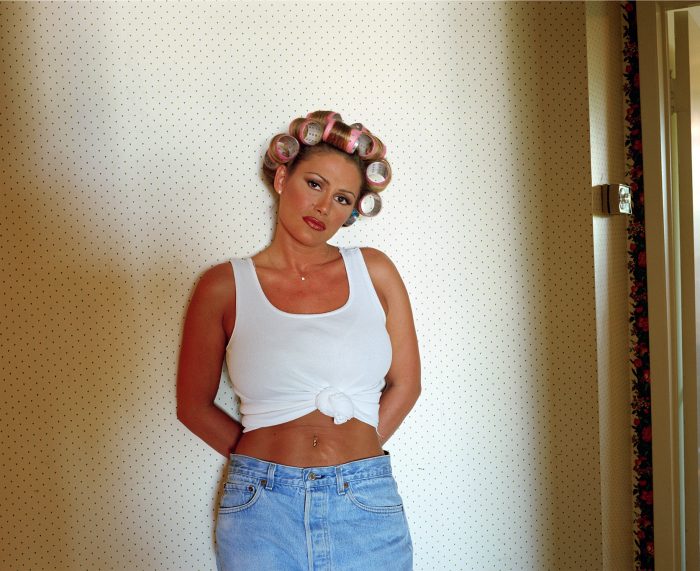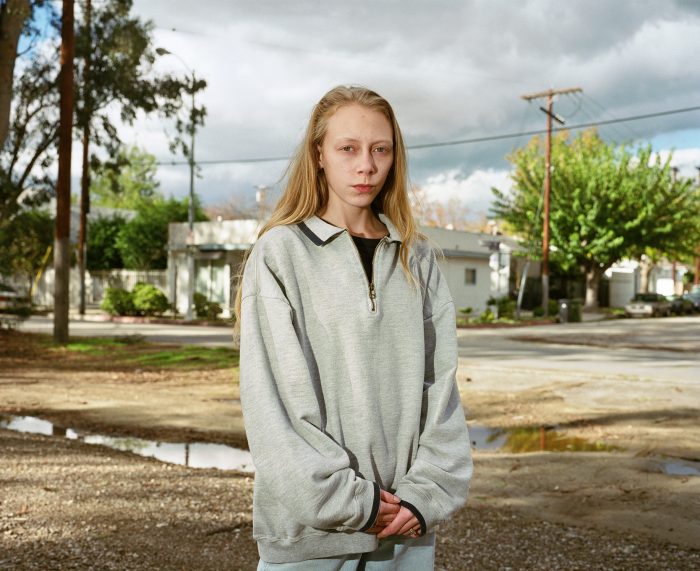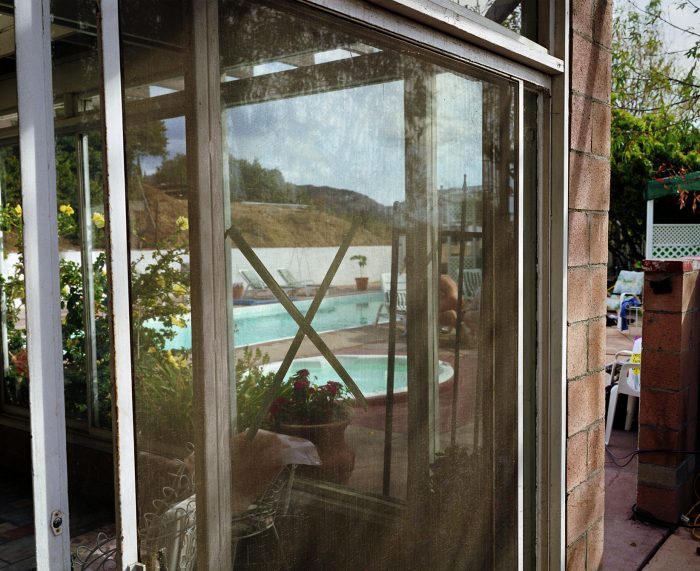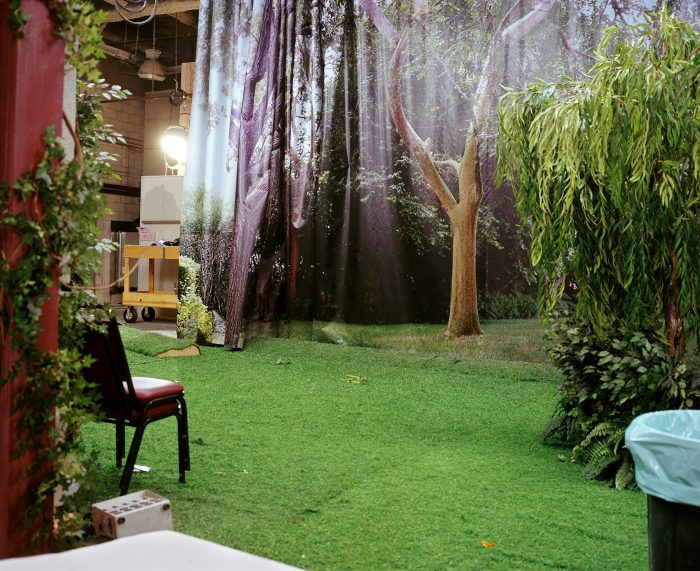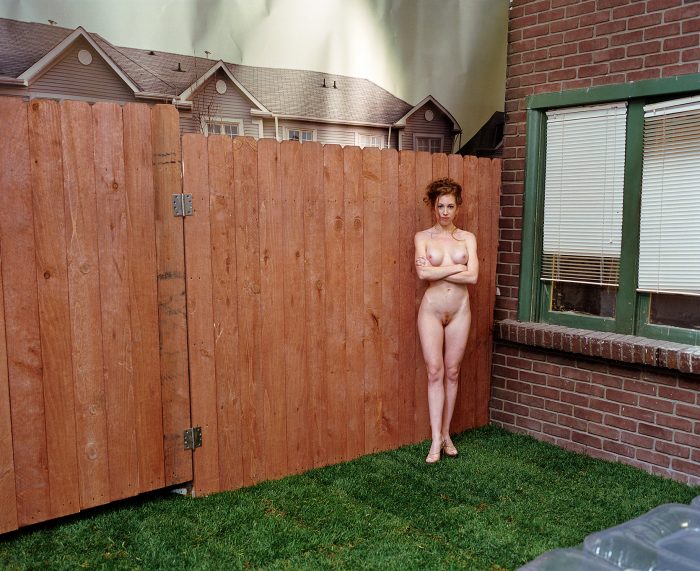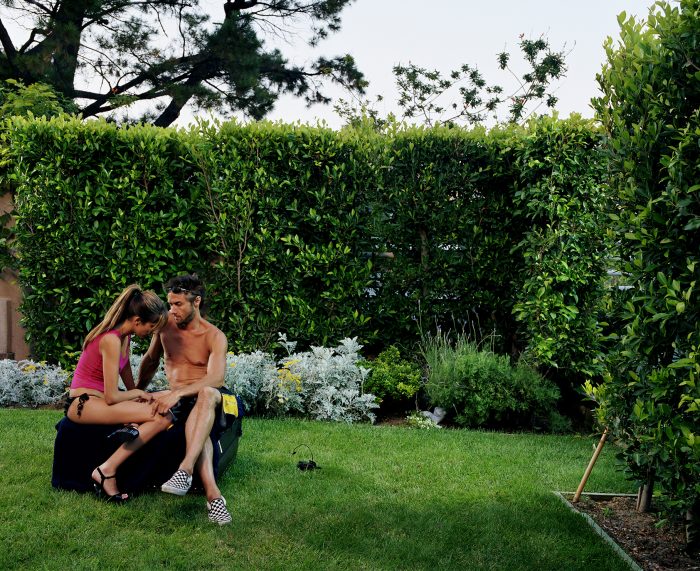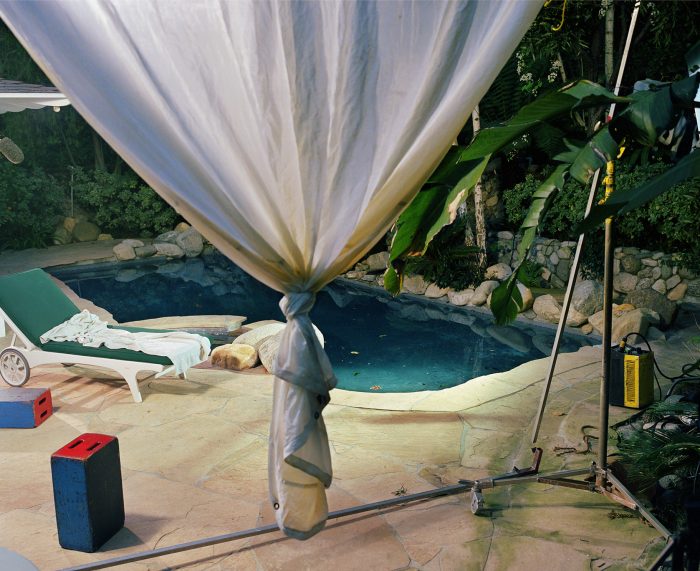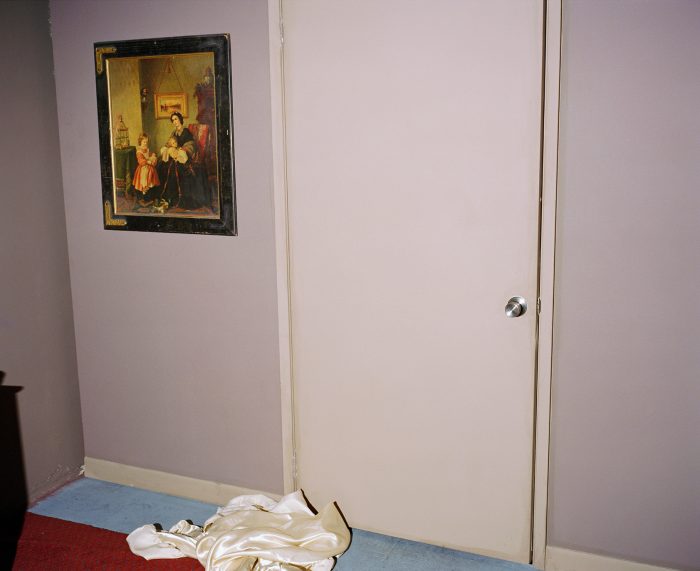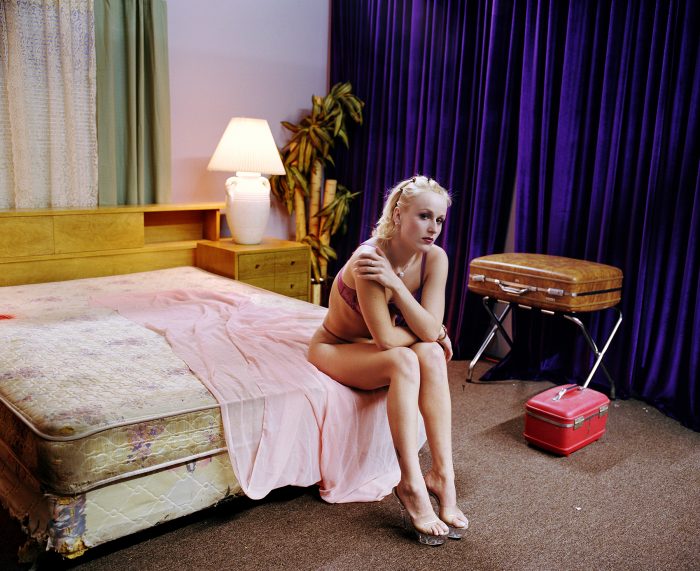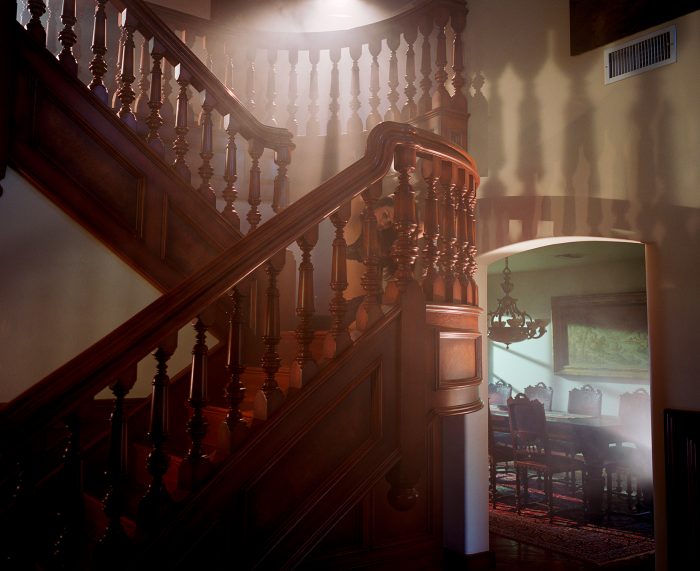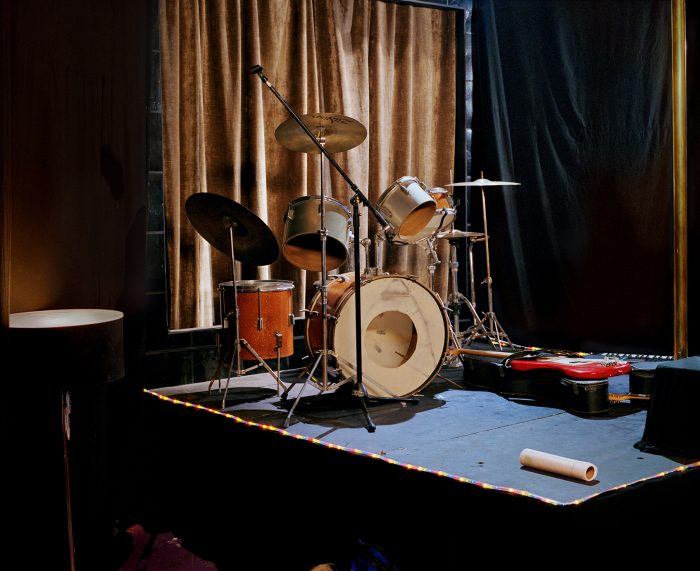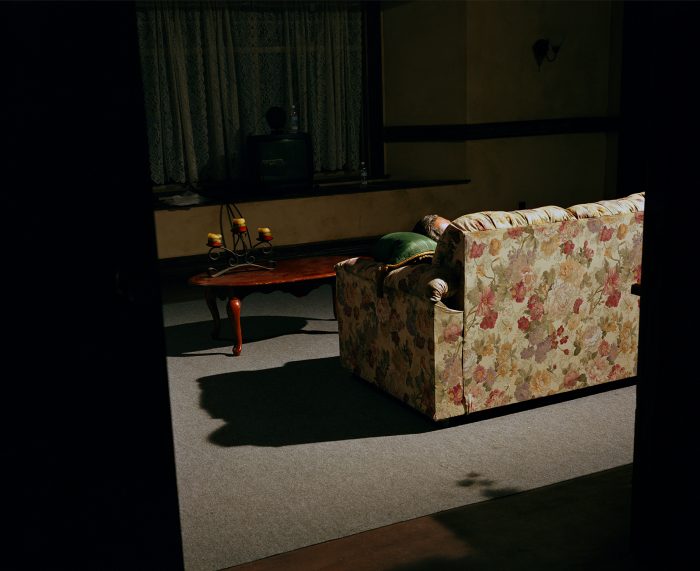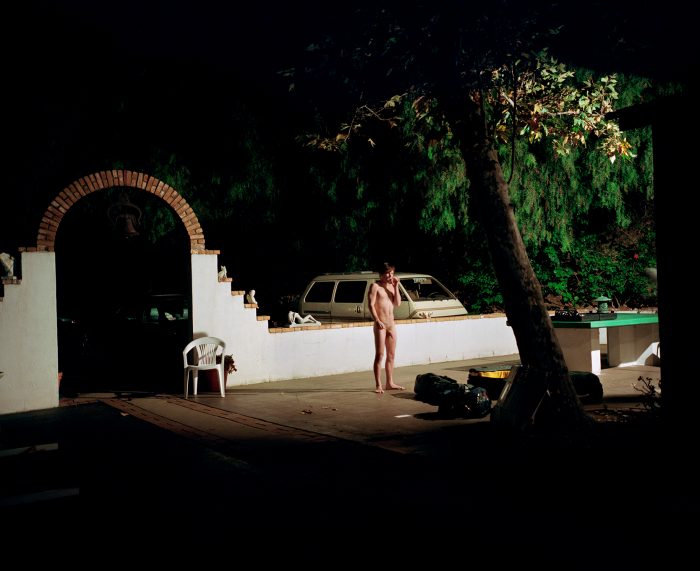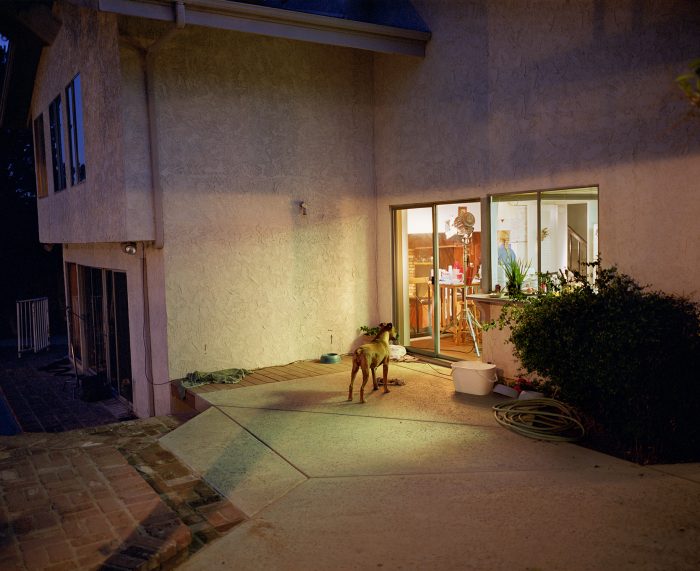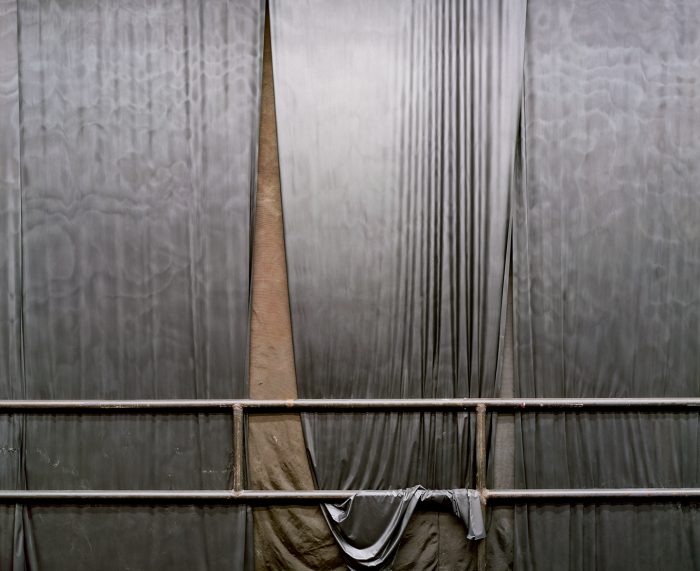 The cast and crew have gathered in the front yard of a ranch-style house, a few blocks from where I went to high school in the San Fernando Valley. Women in six-inch heels sink into the lawn; men push around camera equipment, anxious about losing the light. They are preparing to film a scene in which four blond housewives in a convertible are pursued and overtaken by two men in an appliance-repair van. In the golden afternoon light the neighbors have come out to water their lawns and witness the scene.
It is common for adult-film companies to shoot in tract houses — the homes of dentists and attorneys and day traders whose family photographs can be seen in the background, and whose decorating tastes give the films their particular look. It's as if one family went on vacation for a few days, leaving everything in the house intact, and another family, an odd assembly of unrelated adults, has temporarily taken up residence. While the film crew and talent are hard at work in the living room, I wander through the house peering into the lives of the people who live there. I feel like a forensic photographer searching out evidence.
In these films, lazy afternoons are interrupted not by noisy children but by the uncontrollable desires of delivery boys, baby sitters, coeds and cops. They crowd in the master bedrooms and spill out onto the patios and into the pools that look just like our neighbors' pools, like our pool. And by photographing this I'm planted squarely in the terrain of my own ambivalence — that rich and fertile field that stretches out between fascination and repulsion, desire and loss. I'm home again.
Larry Sultan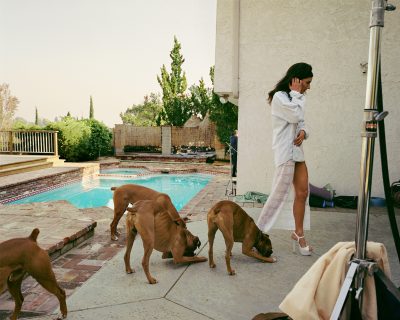 Selected Exhibitions
2007
Domus Atrium 02
Salamanca, Spain
Museum of Contemporary Photography
Chicago, Illinois
Alexandre Pollazzon Gallery
London, England
2006
Campus Galerie
University of Bayreuth, Germany
Jackson Fine Art
Atlanta, Georgia
2005
Museé Del I'Elysée
Lausanne, Switzeland
2005
Maes & Matthys Gallery
Antwerp Belgium
2004
San Francisco Museum of Modern Art
San Francisco, California
Galerie Thomas Zander
Koln, Germany
Janet Borden Gallery
New York, New York
The Apartment
Athens, Greece
2003
Stephen Wirtz Gallery
San Francisco, California
Isabella Brancolini Art Contemporane Gallery
Florence, Italy
2002
Reflex Modern Art
Amsterdam, Netherlands
Featured Reviews
2004
Picturing the Naked Truth
Joe Jarrell
San Francisco Chronicle
Larry Sultan: The Valley
Clark Buckner
Strethcer.org
Star Maps San, Fernando Valley Style
Tessa DeCarlo
New York Times
Larry Sultan: The Valley Review
Glen Helfand
Artforum
2001
Larry Sultan The Valley
Ken Johnson
New York Times
1999
Sunset Porno and the Steamy, Steamy Suburbs. A Sneak Peak behind the Scenes in Everyday L.A.
Vogue Hommes
Books
2004
The Valley
Larry Sultan
Scalo Verlag AG
Zurich, Switzerland
2010
Katherine Avenue
Larry Sultan
Steidl
Hannover, Germany
2008
This Side of Paradise: Body and Landscape in L.A. Photographs
Bohn-Spector, Claudia Watts, Jennifer Merrell
Library West Hall and Boone Gallery
2006
Art Photography Now
Susan Bright
ClickDoubleClick: The Documentary Factor
Thomas Weski
Verlag der Buchhandlung Walther König
Koln, Germany
Public Collections
San Francisco Museum of Modern Art
Belgacom Foundation Brussels
Berkeley Art Museum / Pacific Film Archives
BPR Hannover
Los Angeles County Museum of Art
Mallorca Foundation
MOCA Los Angeles
Oakland Museum of California
Princeton University
White Cube
Whitney Museum of American Art
Yale University