Los Angeles, Early Evening / 1986
Practicing Golf Swing / 1986
Fixing the Vacuum / 1991
Mom in Green Nightgown / 1992
Business Page / 1985
Discussion, Kitchen Table / 1985
My Mother Posing / 1984
Talking Through Car Window / 1987
Palm Springs, Sprinklers / 1991
Dad on Bed / 1984
Across the Divide / 1984
Thanksgiving / 1985
Reading at the Kitchen Table / 1988
Mom in Garage / 1988
Dad on Sofa / 1984
Mom Looking Through Curtain / 1989
Dad at Whiteboard / 1984
Mom in Pool / 1990
Mom Caught in Curtain / 1991
Flaming Weber /
Talking by Car / 1986
My Mother on a Chaise Lounge / 1987
Mom and Dad Close Up / 1992
My Father's Desk / 1987
Mom and Dad at the Pool / 1987
Dad With Golf Clubs / 1987
Dad in Bed, Moisturising / 1984
Dad on Boat / 1984
Golf Trophy / 1984
Nightstand / 1984
Dad With Raft / 1987
Chess Game in Kitchen / 1985
My Father's Dresser / 1985
Fixing the Rain Bird1985Pictures From HomeLarry SultanART162LS161 / 1985
Argument in the Hallway / 1986
Moving Out / 1988
Conversation on Bed / 1986
Conversation Through Kitchen Window / 1986
Dad Behind Plant / 1986
Dad's Legs / 1986
Mom Touching Wallpaper / 1986
Asleep in the Afternoon / 1987
Dad in the Dark / 1987
Dad in Front of Pool / 1987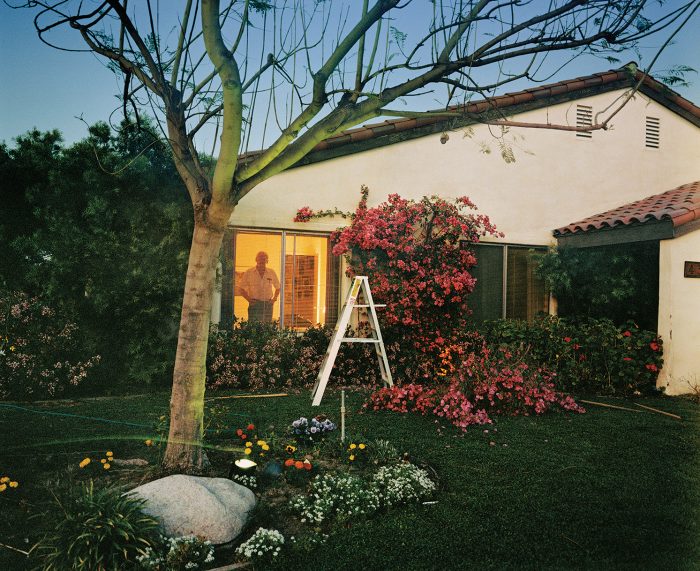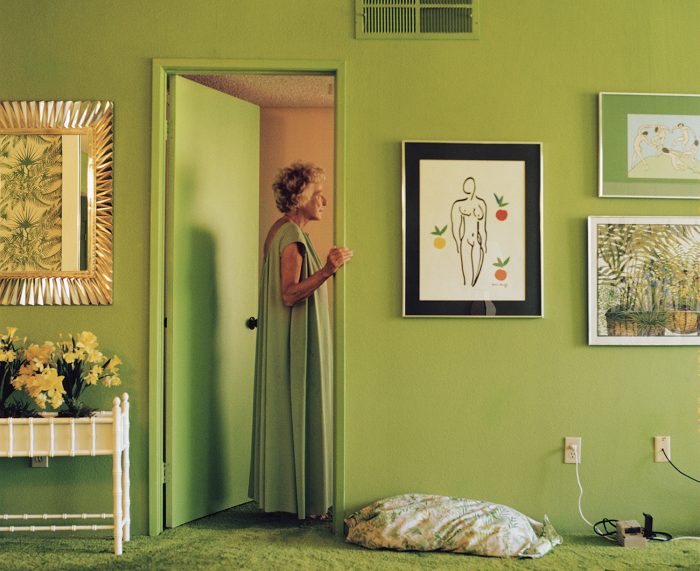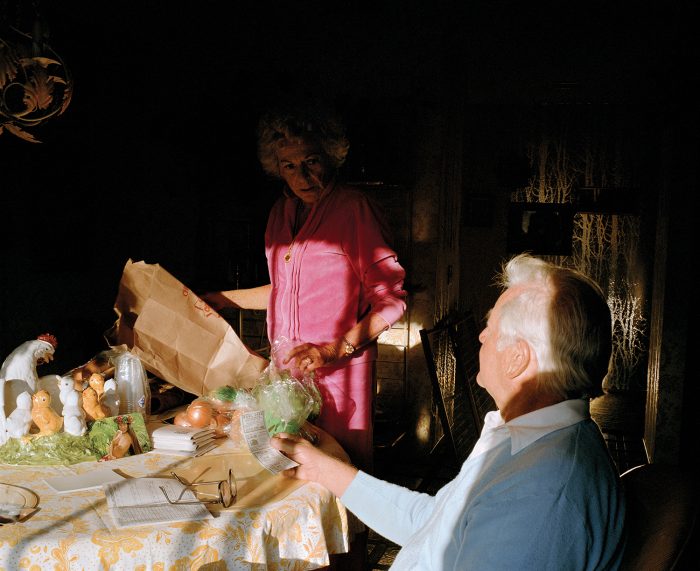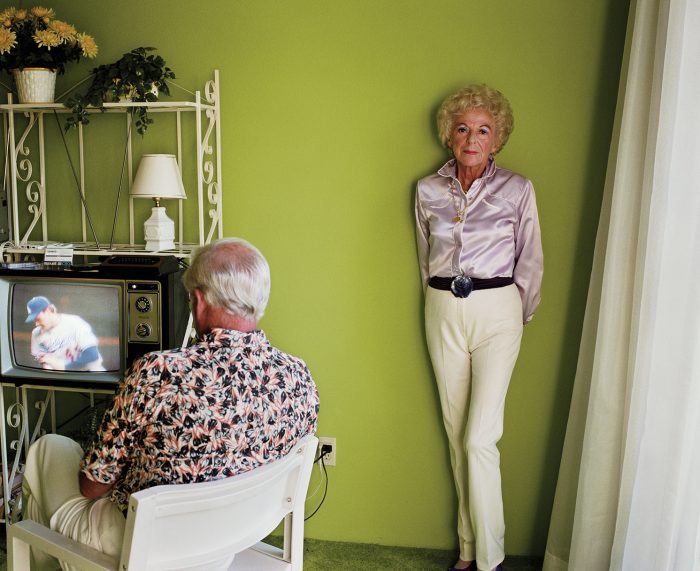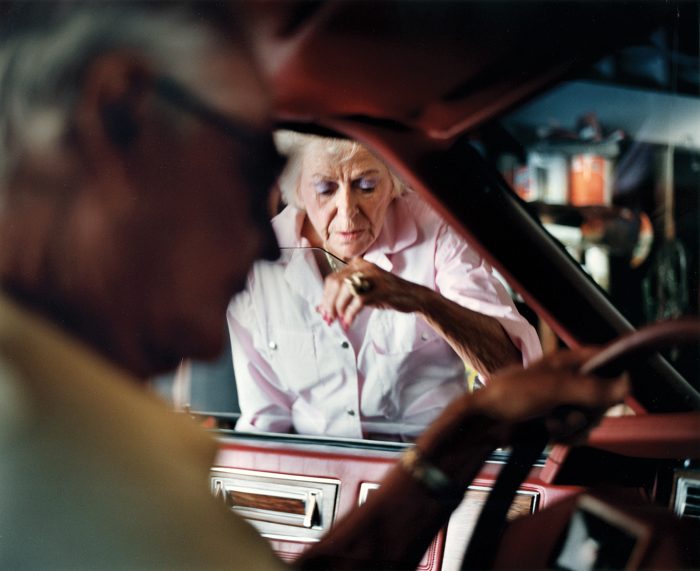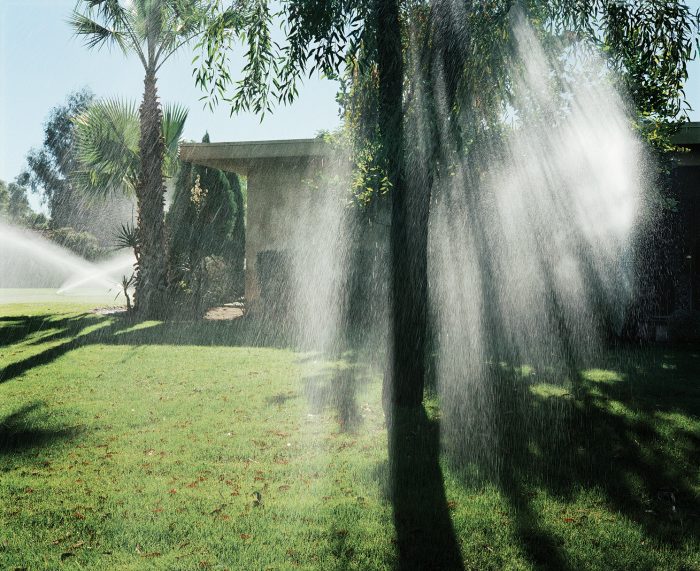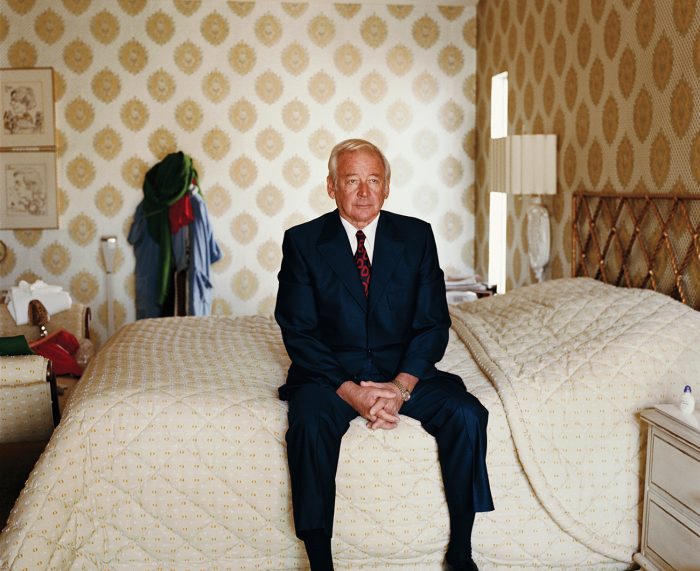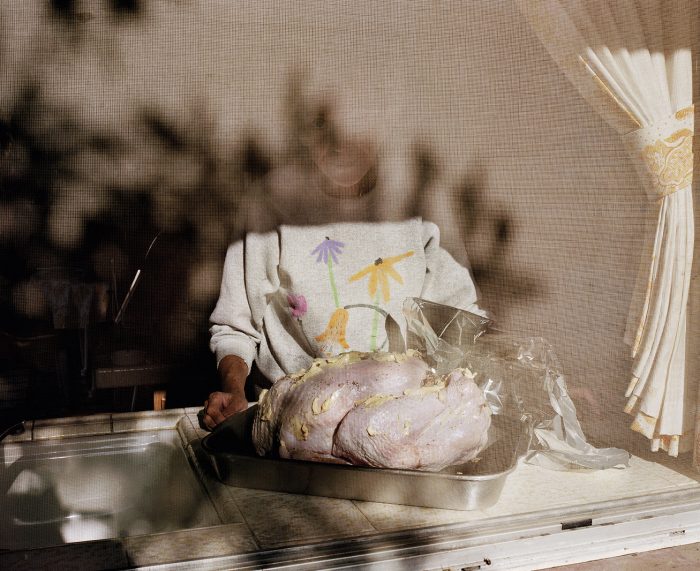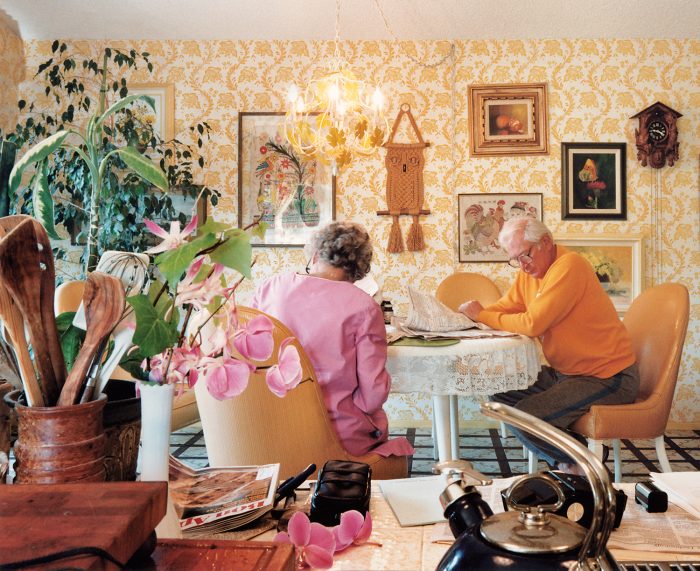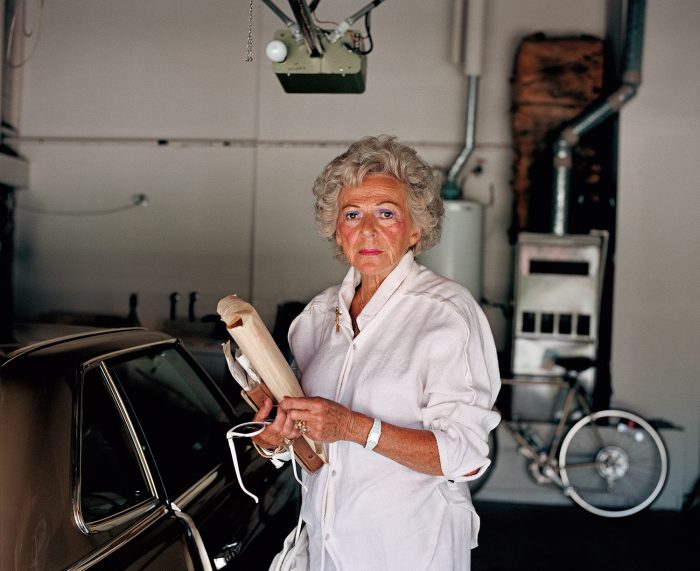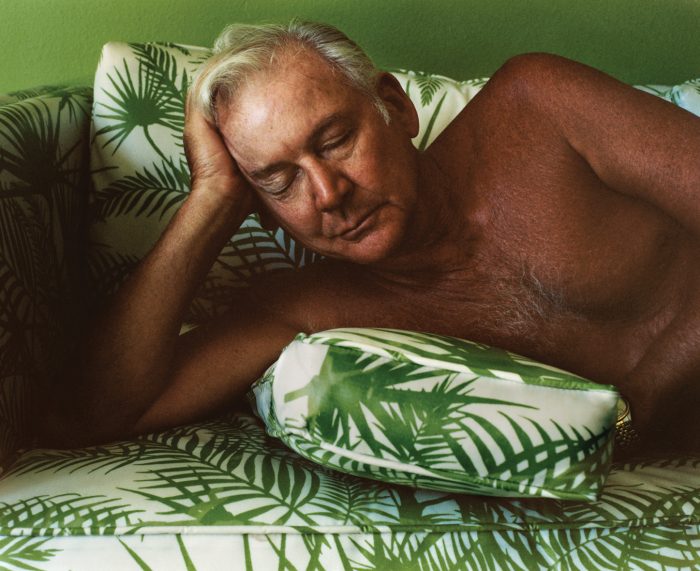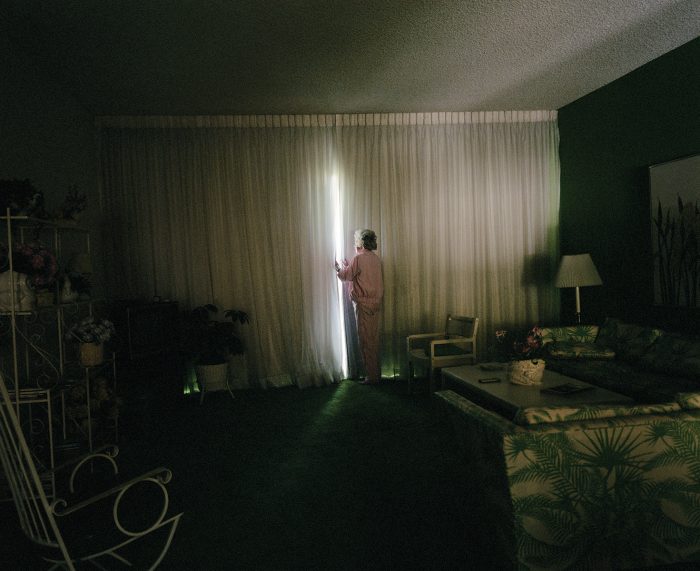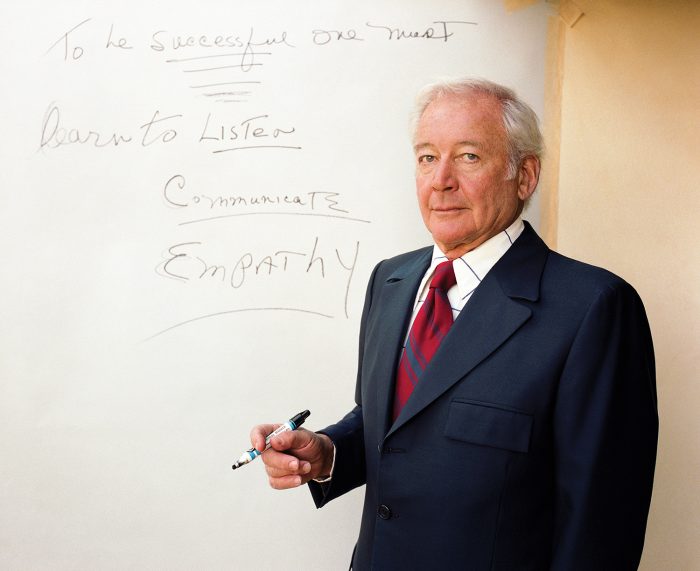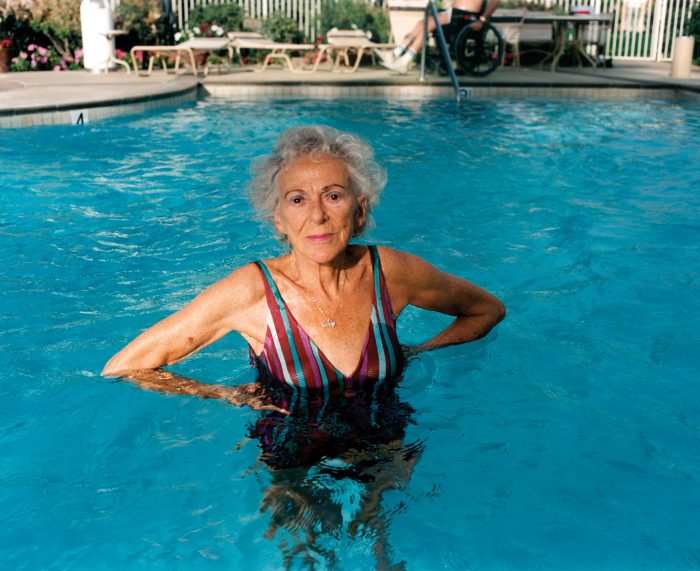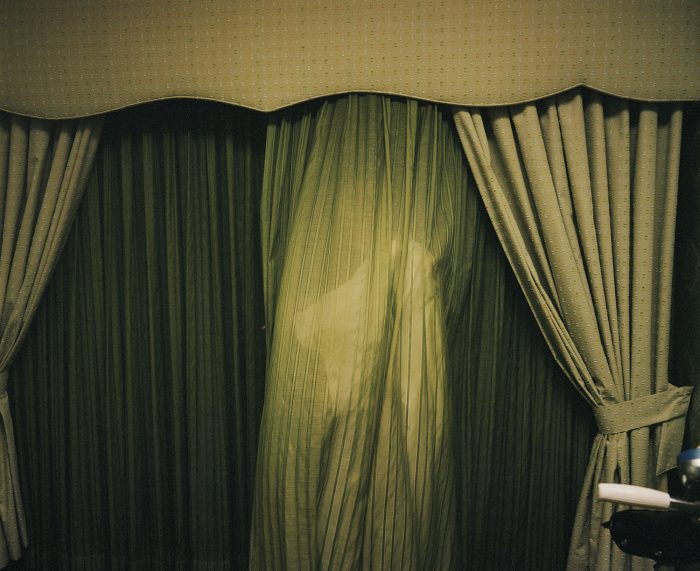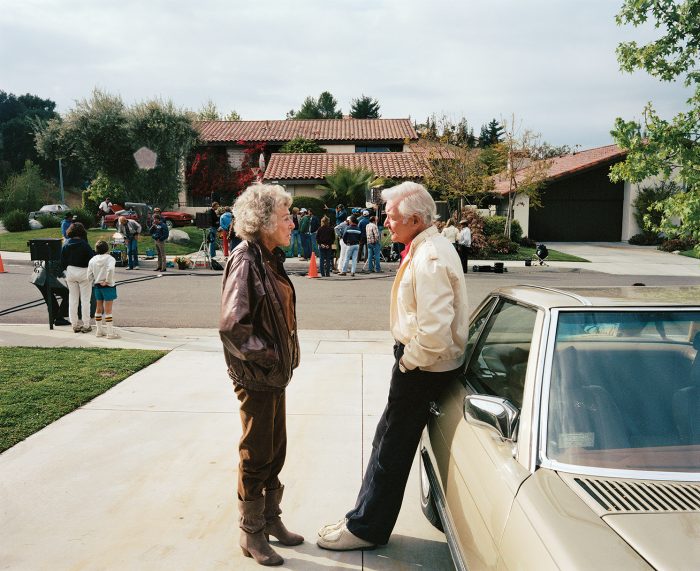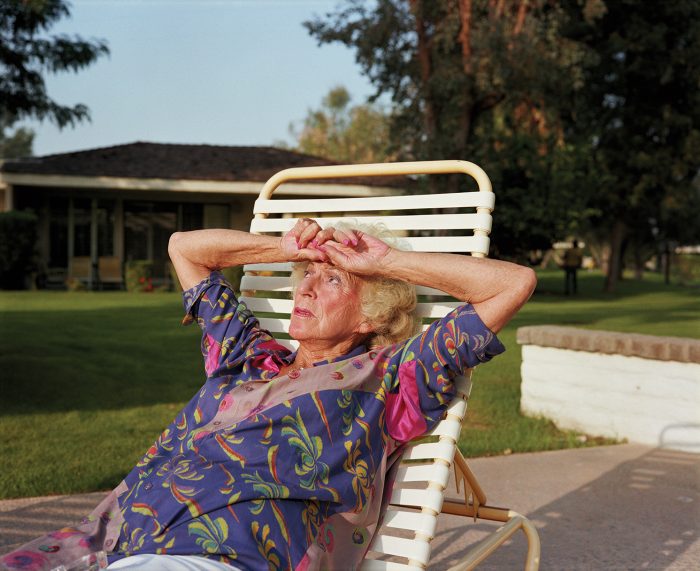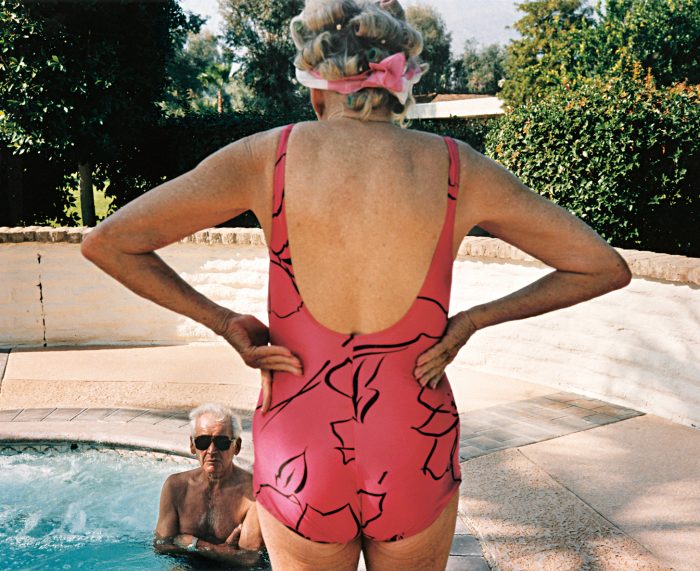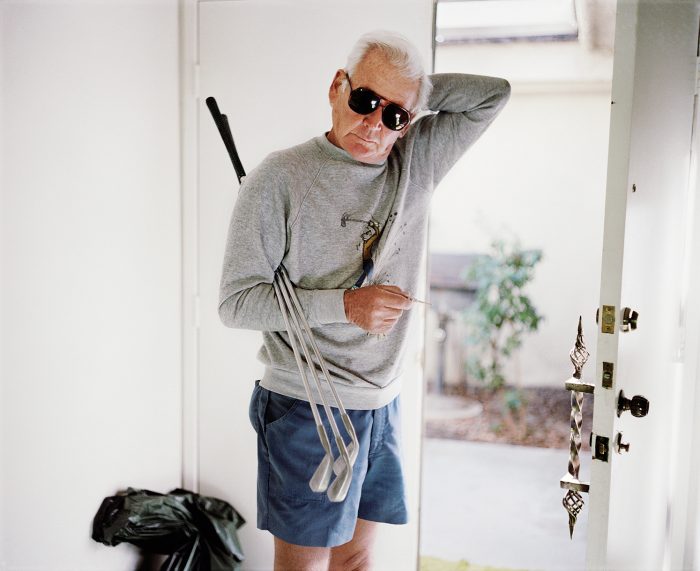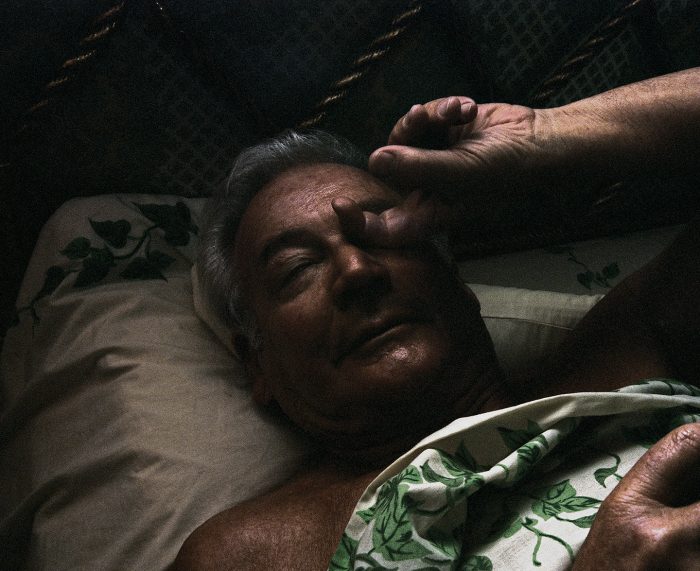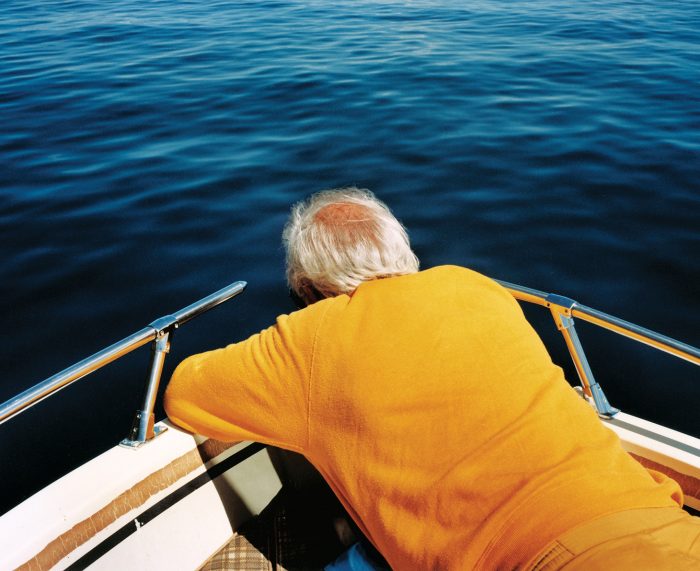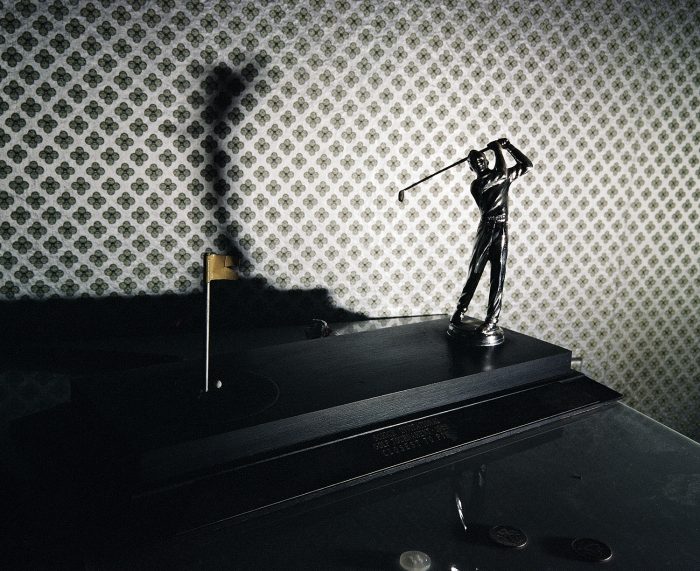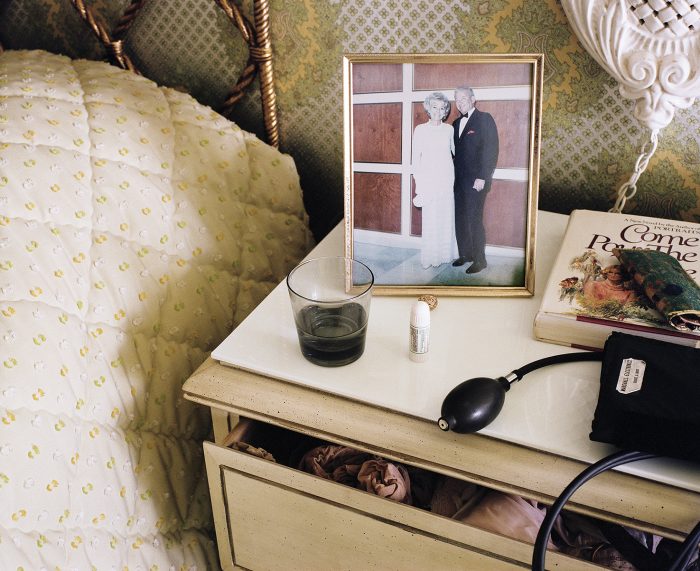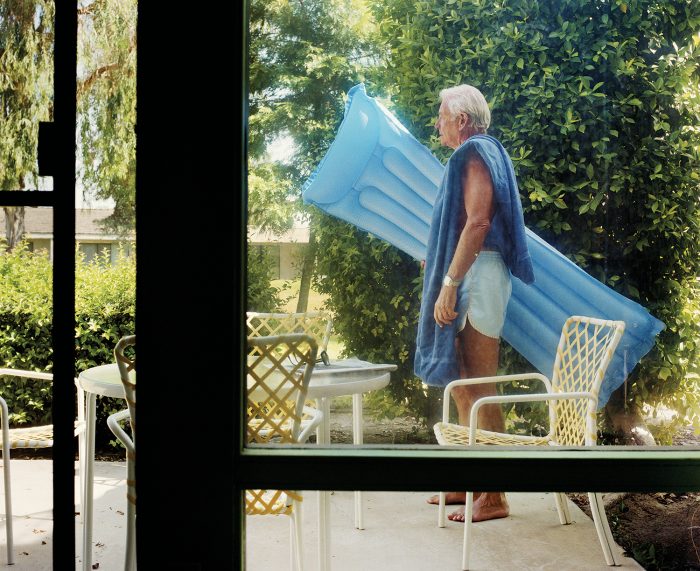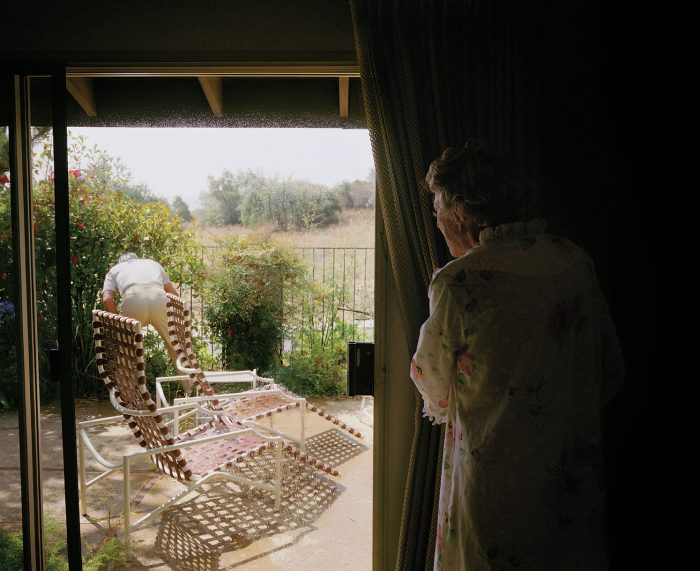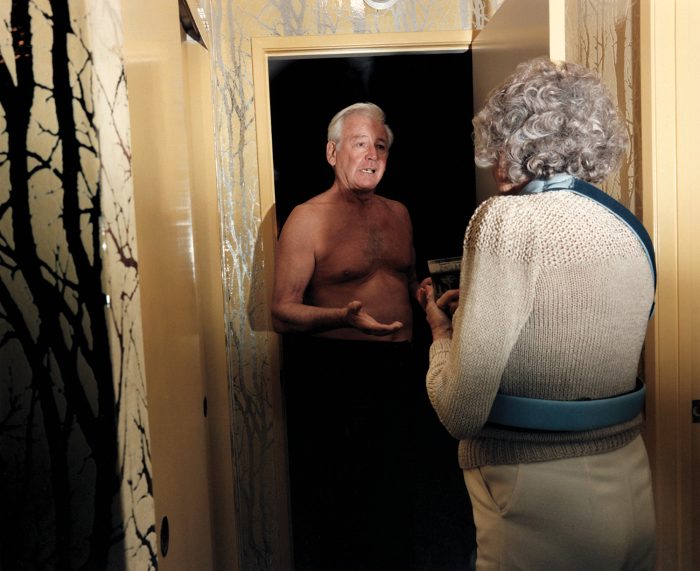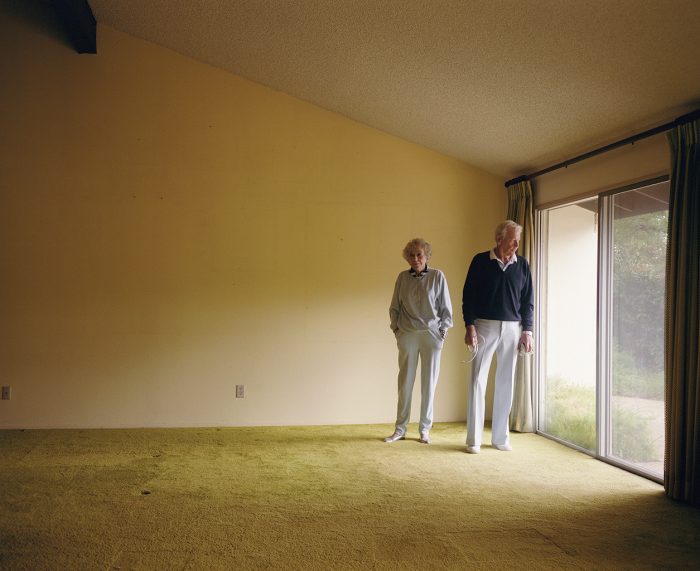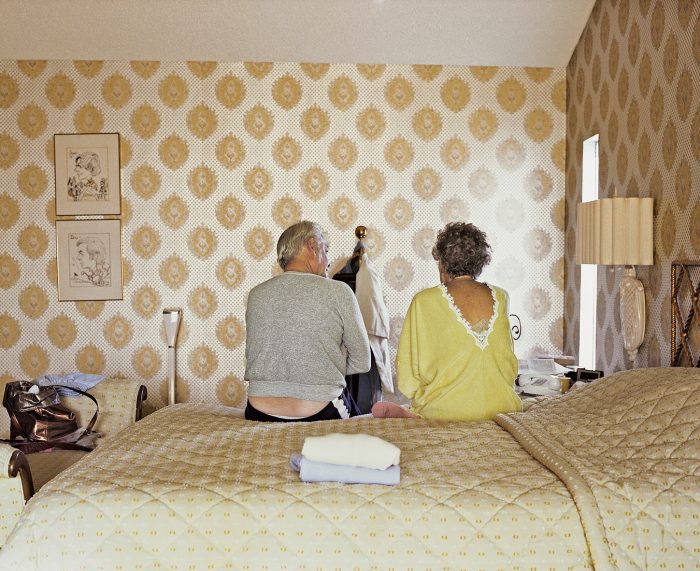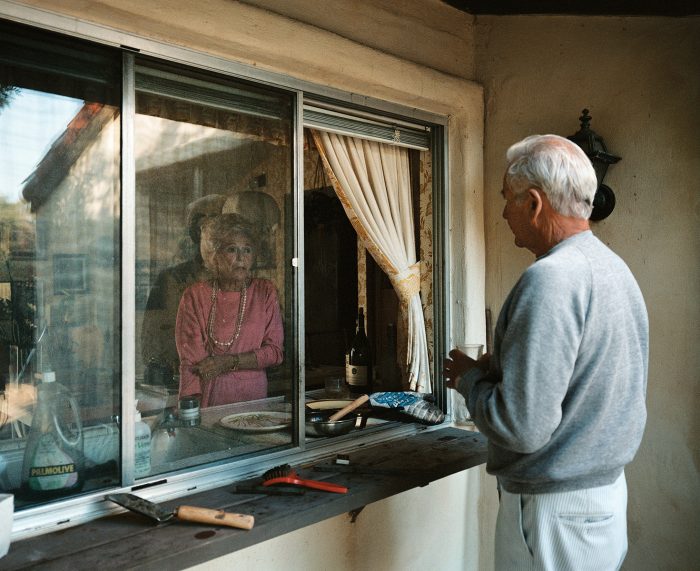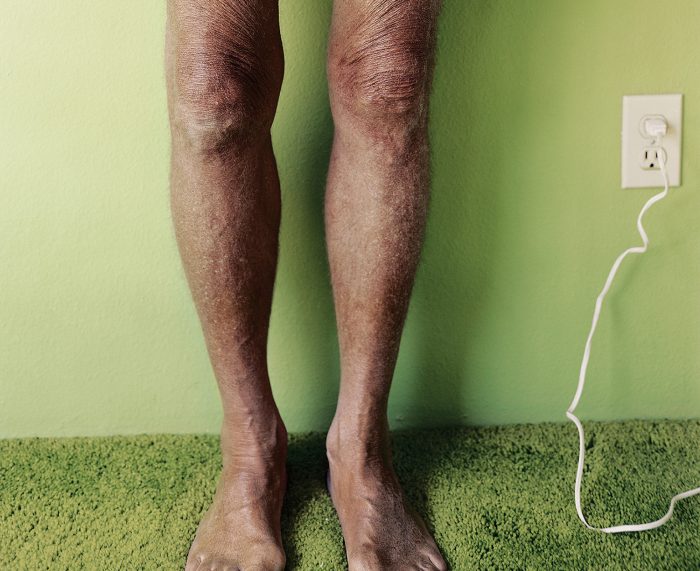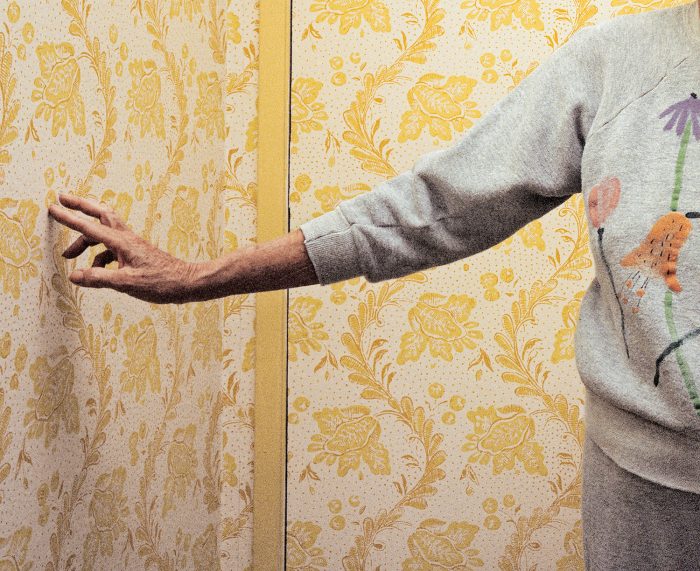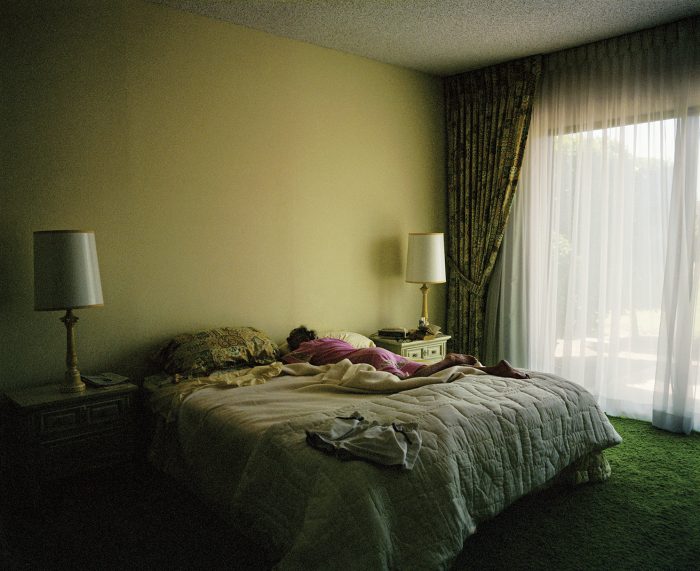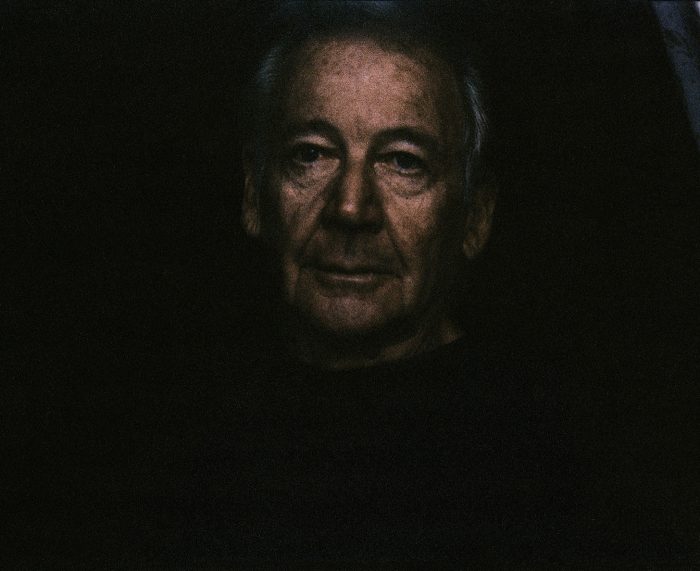 The house is quiet.  They have gone to bed, leaving me alone, and the electric timer has just switched off the living-room lights.  It feels like the house has finally turned on its side to fall asleep.  Years ago I would have gone through my mother's purse for one of her cigarettes and smoked in the dark.  It was a magical time that the house was mine.
Tonight, however, I am restless.  I sit at the dining-room table; rummage through the refrigerator.  What am I looking for?
All day long I've been scavenging, poking around in rooms and closets, peering at their things, studying them.  I arrange my rolls of exposed film into long rows and count and recount them as if they were lost.  There are twenty-eight.
What drives me to continue this work is difficult to name.  It has more to do with love than with sociology, with being a subject in the drama rather than a witness.  And in the odd and jumbled process of working everything shifts; the boundaries blur, my distance slips, the arrogance and illusion of immunity falters.  I wake up in the middle of the night, stunned and anguished.  These are my parents.  From that simple fact, everything follows.  I realize that beyond the rolls of film and the few good pictures, the demands of my project and my confusion about its meaning, is the wish to take photography literally.  To stop time.  I want my parents to live forever.
Larry Sultan: An excerpt from Chapter One of Pictures From Home, 1992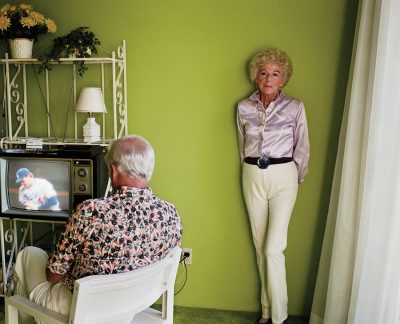 Selected Exhibitions
1996
Queens Museum
New York
1995
Scottsdale Center for the Arts
Scottsdale, Arizona
1994
Corcoran Museum of Art
Washington DC

San Diego Museum of Contemporary Art
San Diego, California
Chicago Cultural Arts Center
Chicago Illinois
1992
San Jose Museum of Art
San Jose, California
Stephen Wirtz Gallery
San Francisco, California
Featured Reviews
1995
Larry Sultan: Pictures From Home
George Howell
Art Papers
Family Values
D.H. Mader
Perspektief, Holland
Mom-and-Pop Art
Bettie Rinehart
New Times
The Autobiographie Realism in Recent Photography and Media Art
Bas Vroege & Deanna Herst
Perspektief, Holland
Larry Sultan's Pictures From Home
Kiana Dicker
Blast
Thought-Provoking Exhibit Examines Meaning of Home
Tom Patterson
Winter-Salem Journal
1994
A Jewish Family: From Brooklyn to New York
Richard Woodward
ARTnews
Family Pictures Tell a Multitude of Stories
Suzy Shultz
Chicago Sun Times
Larry Sultan's Photos Raise an Old Question: Whose Life is it Anyway?
Larry Thall
Chicago Tribune
Portrait of the Home Folks: Poignant Family Essay
Robert L. Puncus
The San Diego Union-Tribune
1993
Family Viewing
Vince Aletti
Village Voice
Pictures from Home
Michael Collins
Creative Camera
Larry Sultan, Pictures from Home
Charlotte Moser
Artweek
Family Values
Michael Read
Review: Friends of Photography
Art in Review – Larry Sultan
Charles Hagen
The New York Times
Seen Through the Eyes of a Child
Veronique Veinne
1992
Family Album
Portfolio:  Larry Sultan
Los Angeles Times Magazine
Of Human Bonding
Karen Heller
Philadelphia Inquirer Magazine
All in the Family: Photographer Larry Sultan Stays Close to Home in Search For Truth
Marcia Tanner
San Francisco Chronicle Datebook
1991
Dark Domestic Visions
Alice McDermott
New York Times
A House is not a Home
Peter Plagens
Newsweek
Something New Under the Met Sun
John Russler
New York Times
1990
Interview on Fresh Air
Terry Gross and Larry Sultan
PBS
Interview With Larry Sultan
Catherine Liu
Bomb Magazine
Books
1992
Pictures From Home
Larry Sultan
Harry N. Abrams
New York, New York
2010
Katherine Avenue
Larry Sultan
Steidl
Hannover, Germany
1998
Familial Gaze
Marianne Hirsch
Harvard University Press, Massachusetts
1995
Home is Where
University of North Carolina, Greensboro
North Carolina

Parent
Ron Geiber
Dayton Art Institute/Wright State University
Flesh and Blood
Abigail Heyman
The Picture Project, New York
1994
Who's Looking at the Family
Carol Brown
Barbican Art Gallery, London
Public Collections
Art Institute of Chicago
Berkeley Art Museum / Pacific Film Archives
Birmingham Art Museum
Brown University
Canadian Center for Art and Architecture
Corcoran Gallery of Art
Di Rosa Foundation
Harvard Business School
Jewish Museum
Museum of Modern Art
Metropolitan Museum of Art
Milwaukee Art Museum
Museum of Fine Arts Houston
Princeton University
San Francisco Museum of Modern Art
San Jose Museum of Art
Smithsonian
University Art Gallery / New Mexico State University
Yale University Art Gallery