Newsroom: Larry Sultan and Mike Mandel / Statement + History
Newsroom, University Art Museum Paper / News
Installation View with Mike and Larry at Desk / 1983
Installation View with Mike and Larry / 1983
Installation Detail showing newsfeed machine / 1983
Installation View / 1983
Installation Detail: Installing Image / 1983
Installation View with Newsfeed and Image Pile / 1983
Installation View / 1983
Installation View, Newsfeed and Images / 1983
Installation Detail / 1983
Installation View / 1983
Installation Detail, Newsfeed / 1983
Installation Detail, Graph / 1983
Installation View of Text and News Stories / 1983
Installation View of News Images / 1983
Installation Detail / 1983
Installation Detail, News Image / 1983
nstallation Detail, News Image / 1983
nstallation Detail, News Image / 1983
nstallation Detail, News Image / 1983
nstallation Detail, News Image Detail / 1983
nstallation Detail, News Image / 1983
nstallation Detail, News Image / 1983
nstallation Detail, News Image / 1983
nstallation Detail, News Image / 1983
nstallation Detail, News Image / 1983
nstallation Detail, News Image / 1983
nstallation Detail, News Image / 1983
Gallery Catalog, Cover / 1983
Gallery Catalog, Inside Pages / 1983
Gallery Catalog, Back Page / 1983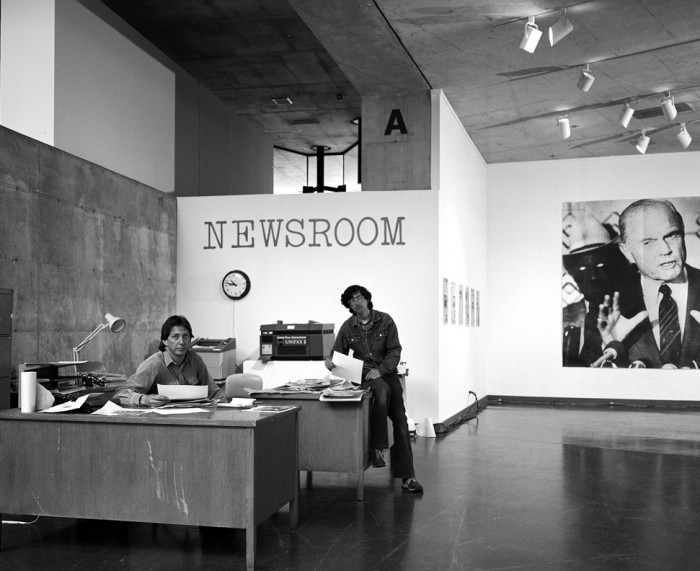 Newsroom
An except from an essay by Constance M. Lewallen written in 2009
Newsroom was the culmination of Mandel and Sultan's collaborative projects dealing with mass media imagery. They approached it as a workshop, an evolving exhibition, in which they hoped to learn as well as present facts about the methods of news media and create awareness of the mutability of photographic meaning. However, as artists, they were freed from journalistic restraints. They were free to pair texts that were unrelated to the images they accompanied, or to juxtapose images that together took on symbolic or lyrical meaning. "It was as if the news of the day found its way into the poetry section (if only newspapers had such a thing)—fragments of time and the real world were woven into something more mythic or allegorical."[i] They also became aware, as Mike Mandel said recently, "that there were lots of images that would never be used as part of the news, which had all kinds of metaphorical possibilities."[ii] They selectively enlarged some of the more evocative images that the media neglected (this required racing back and forth across the Bay Bridge between the museum in Berkeley and the San Francisco Art Institute's darkroom). One mural-size enlargement of a photo of astronaut-turned-Senator John Glenn revealed a mysterious, shadowy image of a man to his left rear that viewers were left to make of what they would. The man was probably a secret service agent; alternatively, as Mandel humorously suggested, Glenn "didn't realize that the devil was behind him, controlling him, until we made him large enough to discover that." Another mural showed a promotional shot of Howard Hughes's ill-fated Spruce Goose mega-hydroplane with two uniformed football players standing atop it to emphasize its enormity. The text the artists selected to pair with the mural on an adjacent wall was, "Kemp said he didn't care. 'I think it's important for all those young people out there, who someday hope to play real football, where you kick it and run with it and put your hands on it, a distinction should be made that football is democratic capitalism, whereas soccer is European socialism.'" At one point the artists mounted a grid of four unidentified politicians along with the appropriated text: "A call for a halt on production and deployment, as a priority, would have the practical effect of diminishing the prospects for achieving the deep reductions we are seeking."
Other enlargements (which changed periodically), such as demonstrations, car accidents, the earthquake in Coalinga, California, were arranged in poetic narrative sequences that had more to do with aesthetics than didactic analysis. In one four-part grid, a scene of a massacre in San Salvador was juxtaposed with a laughing then-President Ronald Reagan applauding a man in the foreground; these were paired with a shot of a politician surrounded by smiling reporters and a photo of one grimacing basketball player holding another in a chokehold. These scenes that involved human interaction of radically different types called attention to the strange juxtapositions that are commonplace in mass media publications. Another pairing—birds that appear to be flying out of a chimney alongside what appears to be a tornado—was more mysterious and ominous. In one large grid, the artists grouped photos that displayed various gestural tropes—the raised arm, the pointed finger—along with several of two politicians seated at either end of a couch apparently in serious discussion. We see similar pictures day in and day out—they are among the accepted conventions of news photography that are symbolic rather than informational. What do we actually learn from such images?
Every few days, the artists mounted the front pages of several national newspapers to compare their presentation of the stories of the day. For the first week, news of the Coalinga earthquake dominated the news throughout the state. On one particular subsequent day the San Jose Mercury News featured photos of a rodeo in Gilroy, California, the Kentucky Derby, violence in Japan, and a bikers' picnic. The San Francisco Examiner also put a photo of the Kentucky Derby on page one, along with articles on Syria and Israel (it is remarkable how many of the same issues still make front-page news), a crackdown on TV pirates, and the murder of a Vietnamese student. The Los Angeles Times pictured Secretary of State George Shultz with King Assad in Syria, shelling in Beirut, stories on Syria and Lebanon, a crime story about a father killed by his sons, and new Soviet missile factories. The New York Times also had pictures of King Assad and the Kentucky Derby as well as articles on Syria, New York taxes, East Germany, Mississippi river trade, and Salvadoran rebels. Mandel and Sultan also graphed the number of times various types of stories appeared: crime, disaster, military, ecology, entertainment, politics, sports, and entertainment—the latter two soared in Sunday editions. However, as Mandel said, "A lot of it was fake information to make it look important. . . . We felt beholden to keep track of something."[iii] In other words, the artists never lost sight of the fact that what they were engaged in was an artistic enterprise in which they sometimes played fast and loose with the facts.
Parts of this essay first appeared in the artists' sheet I wrote for the Larry Sultan and Mike Mandel's 1983 exhibition Newsroom at the University of California, Berkeley Art Museum and Pacific Film Archive (then called the University Art Museum).
Selected Exhibitions
1983
University Art Museum
Berkeley, California
Books
2012
Larry Sultan and Mike Mandel
Verlag Der Buchhandlung Walther König