Untitled Home Movie Still - Black Test / 1984 - 1992
Untitled Home Movie Still / 1984 - 1992
Untitled Home Movie Still / 1984 - 1992
Untitled Home Movie Still / 1984 - 1992
Untitled Home Movie Still / 1984 - 1992
Untitled Home Movie Still / 1984 - 1992
Untitled Home Movie Still / 1984 - 1992
Untitled Home Movie Still / 1984 - 1992
Untitled Home Movie Still / 1984 - 1992
Untitled Home Movie Still / 1984 - 1992
Untitled Home Movie Still / 1984 - 1992
Untitled Home Movie Still / 1984 - 1992
Untitled Home Movie Still / 1984 - 1992
Untitled Home Movie Still / 1984 - 1992
Untitled Home Movie Still / 1984 - 1992
Untitled Home Movie Still / 1984 - 1992
Untitled Home Movie Still / 1984 - 1992
Untitled Home Movie Still / 1984 - 1992
Untitled Home Movie Still / 1984 - 1992
Untitled Home Movie Still / 1984 - 1992
Untitled Home Movie Still / 1984 - 1992
Untitled Home Movie Still / 1984 - 1992
Untitled Home Movie Still / 1984 - 1992
Untitled Home Movie Still / 1984 - 1992
Untitled Home Movie Still / 1984 - 1992
Untitled Home Movie Still / 1984 - 1992
Untitled Home Movie Still / 1984 - 1992
Untitled Home Movie Still / 1984 - 1992
Untitled Home Movie Still / 1984 - 1992
Untitled Home Movie Still / 1984 - 1992
Untitled Home Movie Still / 1984 - 1992
Untitled Home Movie Still / Untitled Home Movie Still Jean, Orange Larry Sultan Pictures From Home ART349 LS348
Untitled Home Movie Still / 1984 - 1992
Untitled Home Movie Still / 1984 - 1992
Untitled Home Movie Still / 1984 - 1992
Untitled Home Movie Still / 1984 - 1992
Untitled Home Movie Still / 1984 - 1992
Untitled Home Movie Still / 1984 - 1992
Untitled Home Movie Still / 1984 - 1992
Untitled Home Movie Still / 1984 - 1992
Untitled Home Movie Still / 1984 - 1992
Untitled Home Movie Still / Untitled Home Movie Still Larry Sultan Pictures From Home
Untitled Home Movie Still / 1984 - 1992
Untitled Home Movie Still / 1984 - 1992
Untitled Home Movie Still / 1984 - 1992
Untitled Home Movie Still / 1984 - 1992
Untitled Home Movie Still / 1984 - 1992
Untitled Home Movie Still / 1984 - 1992
Untitled Home Movie Still / 1984 - 1992
Untitled Home Movie Still / 1984 - 1992
Untitled Home Movie Still / 1984 - 1992
Untitled Home Movie Still / 1984 - 1992
Untitled Home Movie Still / 1984 - 1992
Untitled Home Movie Still / 1984 - 1992
Untitled Movie Still / 1984 - 1992
Untitled Home Movie Still / 1984 - 1992
Untitled Home Movie Still / 1984 - 1992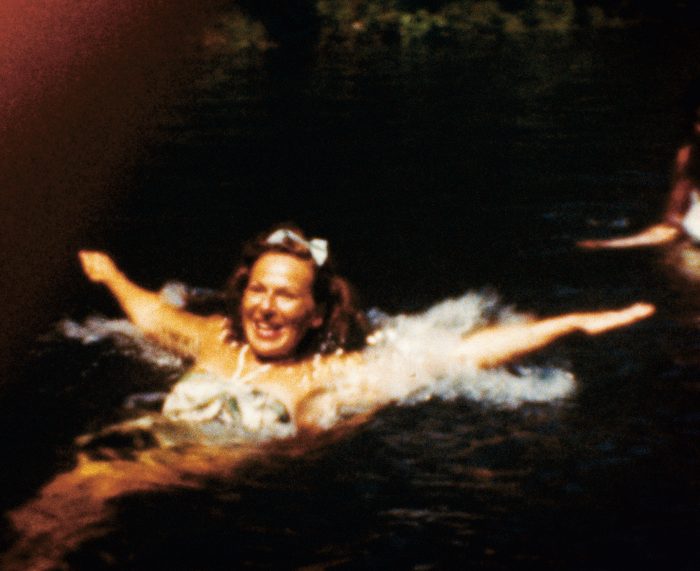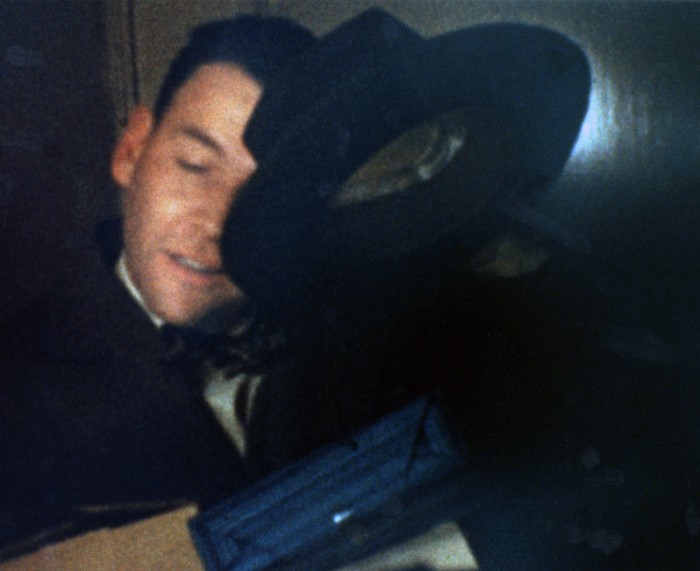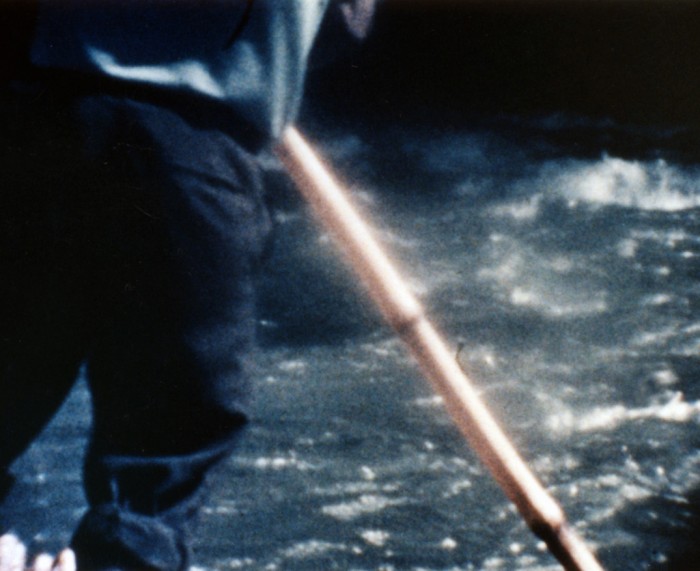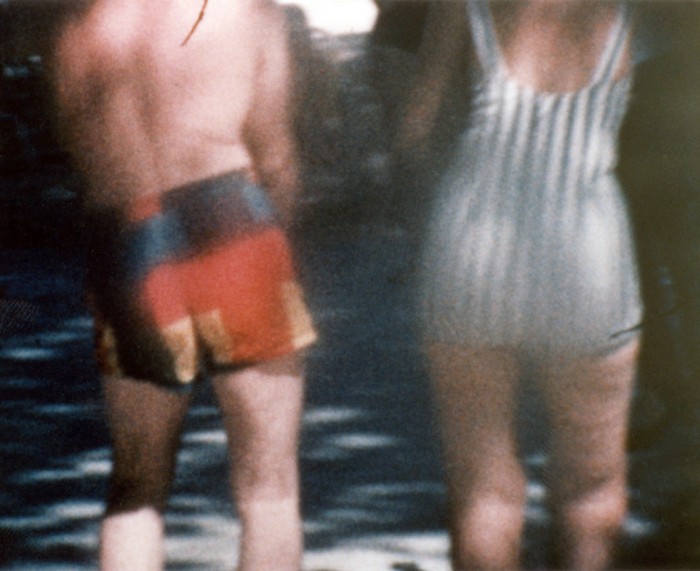 UNTITLED HOME MOVIE STILLS:
We all have our ritual snapshots. These are very precious things that
constitute a personal archive. Photography allows you to carry a trace of the past with you.
With movie stills, the event has been distilled into myth. I would imagine that's why it looks like everybody else's past. While my photographs are specific and I have that very personal relationship to them, the images also possess the quality of cultural myth: footage of a bear chasing somebody through Yosemite, jumping through a hula-hoop, holding a child at a waterfall, measuring each other next to a '55 Buick. We all performed rituals. These images constitute an icon of a family.
By taking stills, I've transformed the movies themselves. If it was just the movies, their general effect would be that kind of edited, distilled recreation of cultural history. By isolating stills, I can make my own incision. The off-moments, that look of worry on someone's face, in the middle of all this…
The interesting thing is that my images, the stills, are both highly fabricated and mediated. But the fact that they have this filmic quality or this sense of family archive, makes them seem very personal and very real and, hopefully, they are able to do exactly what they did to you, which is to make you think about your own past.
Larry Sultan: Excerpts from an interview with Catherine Lui for BOMB Magazine, Spring 1990
Selected Exhibitions
1996
Queens Museum
New York
1995
Scottsdale Center for the Arts
Scottsdale, Arizona
1994
Corcoran Museum of Art
Washington DC

San Diego Museum of Contemporary Art
San Diego, California
Chicago Cultural Arts Center
Chicago Illinois
1992
San Jose Museum of Art
San Jose, California
Stephen Wirtz Gallery
San Francisco, California
Featured Reviews
1995
Larry Sultan: Pictures From Home
George Howell
Art Papers
Family Values
D.H. Mader
Perspektief, Holland
Mom-and-Pop Art
Bettie Rinehart
New Times
The Autobiographie Realism in Recent Photography and Media Art
Bas Vroege & Deanna Herst
Perspektief, Holland
Larry Sultan's Pictures From Home
Kiana Dicker
Blast
Thought-Provoking Exhibit Examines Meaning of Home
Tom Patterson
Winter-Salem Journal
1994
A Jewish Family: From Brooklyn to New York
Richard Woodward
ARTnews
Family Pictures Tell a Multitude of Stories
Suzy Shultz
Chicago Sun Times
Larry Sultan's Photos Raise an Old Question: Whose Life is it Anyway?
Larry Thall
Chicago Tribune
Portrait of the Home Folks: Poignant Family Essay
Robert L. Puncus
The San Diego Union-Tribune
1993
Family Viewing
Vince Aletti
Village Voice
Pictures from Home
Michael Collins
Creative Camera
Larry Sultan, Pictures from Home
Charlotte Moser
Artweek
Family Values
Michael Read
Review: Friends of Photography
Art in Review – Larry Sultan
Charles Hagen
The New York Times
Seen Through the Eyes of a Child
Veronique Veinne
1992
Family Album
Portfolio:  Larry Sultan
Los Angeles Times Magazine
Of Human Bonding
Karen Heller
Philadelphia Inquirer Magazine
All in the Family: Photographer Larry Sultan Stays Close to Home in Search For Truth
Marcia Tanner
San Francisco Chronicle Datebook
1991
Dark Domestic Visions
Alice McDermott
New York Times
A House is not a Home
Peter Plagens
Newsweek
Something New Under the Met Sun
John Russler
New York Times
1990
Interview on Fresh Air
Terry Gross and Larry Sultan
PBS
Interview With Larry Sultan
Catherine Liu
Bomb Magazine
Books
1992
Pictures From Home
Larry Sultan
Harry N. Abrams
New York, New York
2010
Katherine Avenue
Larry Sultan
Steidl
Hannover, Germany
1998
Familial Gaze
Marianne Hirsch
Harvard University Press, Massachusetts
1995
Home is Where
University of North Carolina, Greensboro
North Carolina

Parent
Ron Geiber
Dayton Art Institute/Wright State University
Flesh and Blood
Abigail Heyman
The Picture Project, New York
1994
Who's Looking at the Family
Carol Brown
Barbican Art Gallery, London
Public Collections
Art Institute of Chicago
Berkeley Art Museum / Pacific Film Archives
Birmingham Art Museum
Brown University
Canadian Center for Art and Architecture
Corcoran Gallery of Art
Di Rosa Foundation
Fondation A Stichting, Brussels
Harvard Business School
Jewish Museum
Museum of Modern Art
Metropolitan Museum of Art
Milwaukee Art Museum
Museum of Fine Arts Houston
Princeton University
San Francisco Museum of Modern Art
San Jose Museum of Art
Smithsonian
University Art Gallery / New Mexico State University
Yale University Art Gallery